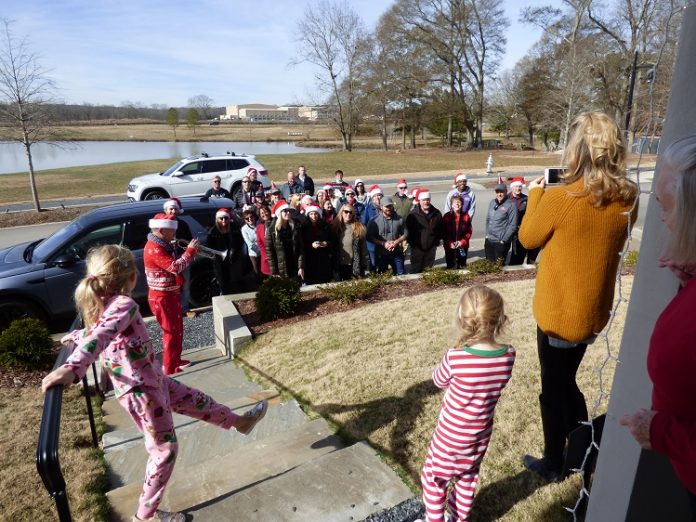 As development in Pinewood Forest in Fayetteville expands, so does the scope of the annual Christmas carols sung at the homes of residents.
Leading the Dec. 20 caroling procession through the neighborhood on trumpet was Pinewood Forest Chief Visionary Dan Cathy, at left.
One of the stops was at the home of Asher Albanese, left foreground, her sister Georgia and mom Wynn, right foreground.
The singing group continued, taking their musical Christmas selections to other homes, and then up the street to the patrons at the Hanna Brothers' Studio Café at the Pinewood Production Centre.
Caroling at Pinewood Forest is a tradition that began in 2015, before the current site was developed. It was at the first session that a small group of those instrumental in developing Pinewood Forest gathered to play and sing at an old house along Veterans Parkway.
Along with the Pinewood Forest mixed-use development, the annual event continues to grow in scope each year, which will make Christmas caroling a sight to see this time next year when even more homes will be occupied, along with 40,000 sq. ft. of retail and 263 apartments currently under construction.
Pictured far in the background are a few of the Pinewood Atlanta Studios soundstages located across Veterans Parkway.