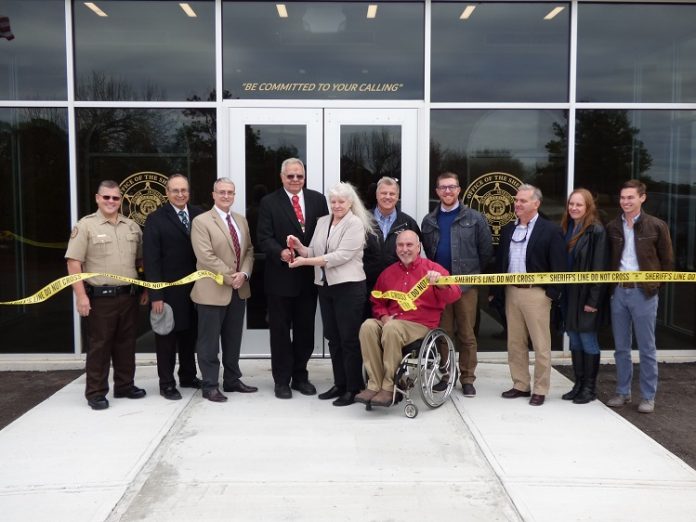 The new Fayette County Sheriff's Office Shooting Range and Training Center on Hewell Road in east Fayette held its grand opening on Dec. 12. The site of a former golf course, the center will be used for a variety of law enforcement and fire safety purposes, and will provide a portion of the right-of-way needed for the upcoming East Fayetteville Bypass.
"This is a phenomenal investment in the ability to train generations of law enforcement officers throughout Fayette County and beyond," said Sheriff Barry Babb. "And it gives us a location to use as a mini-precinct on the east side of the county."
The former 300-acre golf course property was purchased in March 2014 for $1.2 million to protect a future road path for the East Fayetteville Bypass, which will require a new section of road between Ga. Highway 54 to the north and County Line Road to the south.
Potential plans at the time surfaced to have a portion of the property used for a new law enforcement shooting range and officer road training courses.
The renovated building totals 11,251 sq. ft. with a capacity of 144 people. The training center includes three large Wi-Fi-outfitted classrooms and Smartboards.
Though the official opening was Dec. 12, use of the new facility began recently.
"I want to thank the Fayette County commissioners and County Administrator Steve Rapson for seeing the value with training that makes the biggest difference in an officer's performance," said Babb.
The sheriff's office will hold approximately 50 training classes each year, with officers required to have 20 hours of training annually.
"Training space is very limited in most jurisdictions. This facility gives us the ability to host valuable training courses that can be done here," said Babb. "By hosting the training, it provides free training for our officers in a variety of specialty areas, while providing training opportunities for officers from other agencies who will travel here for that training."
The facility includes a large meeting room, six offices, a large basement for future expansion and a reception area which can double as a sheriff's office mini-precinct.
The property also serves as shooting range for deputies, with additional space for various law enforcement road training courses.
Beyond those amenities, the property in the future will be used by Fayette Fire and Emergency Services for training purposes and will include a burn building.
The $1.25 million project was funded by 2017 SPLOST (special purpose local option sales tax) revenues.