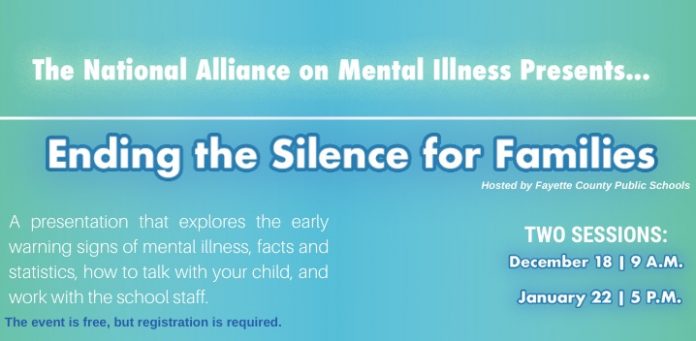 The National Alliance on Mental Illness presents Ending the Silence for Families, hosted by Fayette County Public Schools
Parents, guardians, and primary caregivers are invited to attend Ending the Silence for Families, an important conversation focused on mental illness, presented by the National Alliance of Mental Illness (NAMI).
The event will take place on Wednesday, December 18 at 9 a.m. and Wednesday, January 22 at 5 p.m. at the Center of Innovation, located at 440 Hood Avenue in Fayetteville.
This one-hour presentation explores the early warning signs of mental illness, facts and statistics, how to talk with your child, and work with the school staff.
Presenters include a young adult with a mental health condition who shares their journey of recovery.
Audience members are encouraged to ask questions. The event is free, but registration is required. Use the following link to register: https://tinyurl.com/roh7bhf.