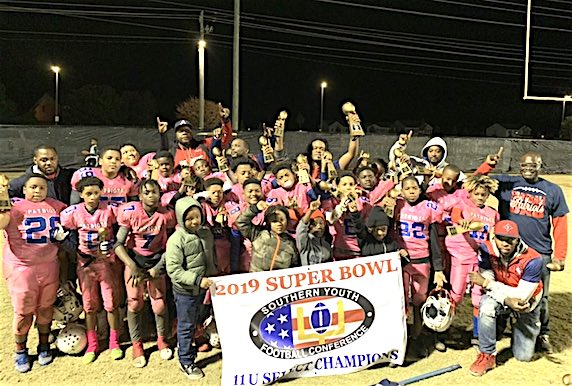 Football around Atlanta at every level has had great success, but just south of 85 the Sandy Creek Junior Patriots (SCJP) 11U has some amazing talent.
SCJP 11U finished the season with a perfect record 10-0 and reigned as 2019 11U Super Bowl Champs of the Southern Youth Football Conference. The team also leads the organization as #8 in the state of Georgia.
Head coach Antwon Ferrell, with the support of local assistant coaches, has created lifelong memories with these young men. More specifically, a number of players have played with the coaching staff since 6 and 7 years of age. The talent on this team is such that you will definitely see these guys on the big screens soon.
While some players will transition into the feeder program at Flat Rock Middle School in Tyrone, others will move to their neighboring schools. Although the season is over, the boys will continue after the Thanksgiving holiday to compete in a football tournament in Daytona, Florida and then Born to Compete. The legacy will continue: "Once a Patriot, always a Patriot!"
Sandy Creek Junior Patriots
Age group: 11U football team
Head Coach: Antwon Ferrell
Location: Tyrone, Ga.
Contact information: 404-713-1488
— Story and photo by Shayla Wiggins