Celebrate the Arts this weekend in Peachtree City
Artists from across the United States will once again converge on the shores of Lake Peachtree in Peachtree City, Georgia for the annual Magnolia Fine Art Festival. Over 100 visual and performing artists will showcase their talents Saturday, October 19th and Sunday, October 20th. It is the largest gathering of fine art-related talent in Fayette County each year.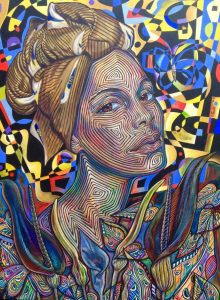 To kick off the art festival renowned artist Rene Dickerson will be holding an artist talk at the Pleasanton Courtyard, 1099 Sandy Creek Rd, Fayetteville on Friday, October 18th.  The talk will begin at 7 p.m. and the public is invited. Please RSVP to Patricia at 470-685-5665 or patriciaforte3@gmail.com. Dickerson has painted cover art for the Temptations, and his work is collected by big names like Oprah, Berry Gordy and Smoky Robinson.
Enjoy live musical and dance performances organized by Todd Bethel, Time 7 Media. Dance Comtempa, Ugarte Studio, Georgia Singers Co, Ellen Edwards, Not3d, Marilyn Wright, Reigning Victory Dance Studio, Chem Trails, Maybe I'm Dreaming, Green Dulcimer Quartet, Musical Schools International, and the headliner, The Austin Neal Band will entertain throughout the weekend.
Art students from all the Fayette County schools have been invited to display their artwork. Emily Lawler, Blue Cicada Studios in Peachtree City, will have lots of great participation art projects, face painting and more for children in the Children's Art Tent.
Grants will be awarded to Fayette County schools.  "One of the many things that makes Magnolia Fine Arts Festival special is that it provides a platform for artists to support teachers like the ones who inspired them," said Charlene Sibaja, president of FAACE promoters of Magnolia.
Watch artists Joe Flores, Quake Solo, Travis Smith, Cathryn Bozone, Xavier Perry, Doitdoitleague (Mario!), and Raz (Ramsey Sibaja) paint their masterpieces in the center of the show. As they paint you can ask questions and bid on their art. Proceeds from the sale will benefit local art initiatives.
Many great sponsors have stepped up to support the show including Peachtree City, Jaguar Land Rover, FAACE, Gobi Photography, Publix, Costco, Golf Rider, Pleasanton Courtyard, Forte Studio, and Everyday Manners.
The Magnolia Fine Art Festival is an annual event organized by an all-volunteer Board and members of Fine Arts and Crafts Entrepreneurs (FAACE). The group promotes and supports the arts in Fayette County and the South Metro Area with arts education. Visit FAACE.org for more information regarding a vibrant group of artists and local business leaders.
Artist awards are given for multiple categories. Special thanks to representatives from Arts Clayton, Jonesboro, Georgia for judging the artists.
Show hours are Saturday 10 a.m. to 5 p.m. and Sunday noon to 5 p.m. Art, live music, food trucks, activities for children and fun are just part of the Magnolia Magic. Come celebrate creativity this fall! For more information visit www.magnoliaartsfestival.org or email info@magnoliaartsfestival.org.
2019 Magnolia Arts Festival Gallery