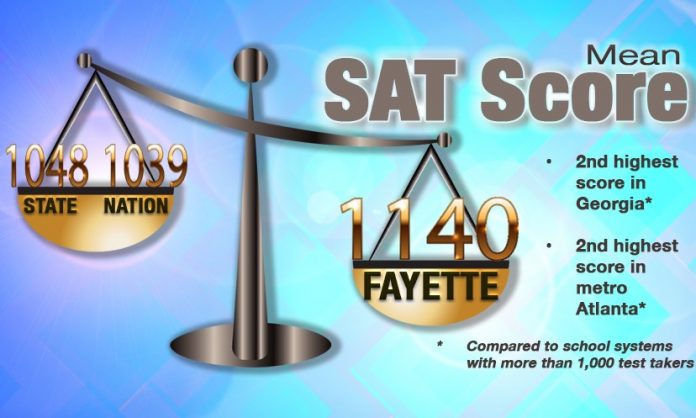 McIntosh posts 1219, 9th highest average in Georgia; all 5 high schools in state's top 78 — 
Fayette County's public school students outperformed both the state and the nation on the 2019 Scholastic Aptitude Test (SAT), according to results released by the College Board.
Students posted a mean score of 1140, placing the school system in the top three percent in the state. The school system beat Georgia's mean score of 1048 and the national mean of 1039 by 92 and 101 points, respectively. Mean is the most common type of average. You get the mean by adding up all the scores and dividing by the number of scores.
Fayette has the second highest average score in the state and metro Atlanta when compared to school systems with more than 1,000 test takers.
In a comparative breakdown of the average score, Fayette had an evidence-based reading and writing (ERW) mean of 577 with the state posting a 533 average and the nation a 524 average. In math, Fayette had a average of 563 compared to the state's average of 515 and the nation's average of 515.
Out of the 394 Georgia high schools with 2019 SAT scores, Fayette's schools are in the top 20 percent in the state with the highest mean scores. McIntosh High came in ninth statewide with a mean score of 1219 (ERW 610 and math 609); Starr's Mill High was 19th with a mean score of 1179 (ERW 585 and math 594); Whitewater High was 37th with a mean score of 1126 (ERW 551 and math 575); Sandy Creek High was 58th with a mean score of 1082 (ERW 531 and math 551); and Fayette County High was 78th with a mean score of 1056 (ERW 518 and math 538). — Story from the Fayette County School System.