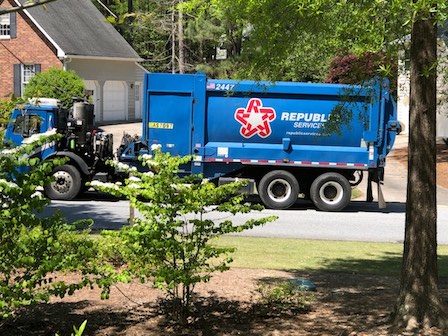 UPDATED: Republic Services said some of its Teamsters Union drivers participated in a work stoppage Monday, and that it affected customers in Peachtree City.
"Republic Services is in contract negotiations with the union representing some of our employees," Republic Services said in an email to TheCitizen.com. "Unfortunately, this resulted in a one-day work stoppage Monday at our McDonough location, which serves Peachtree City.
"We respect the rights of our employees to engage in collective bargaining, and we will continue to work toward a fair contract," the company email said. "Republic has resumed normal operations in the Atlanta area, and any customers who were missed Monday will be prioritized today [Tuesday]. We thank our customers for their patience during this temporary situation."
Readers who use Republic Services to pick up their trash are reporting problems with getting their residential garbage picked up since Monday, Sept. 9.
A Republic Services customer service representative said Tuesday afternoon that indeed there is a "work stoppage" in the Peachtree City area that is "impacting service and operations."
The company rep said Republic is trying to get additional drivers in to cover the areas affected.
She said the company and the Teamsters Union are in "contract negotiations" to resolve the strike. She recommended that residential customers put their trash containers out on their usual schedules, because otherwise a replacement driver won't be able to pick it up.
The Teamsters Facebook page said Republic workers in Cumming, Ga., went on strike Sept. 9 "over alleged unfair labor practices."
According to the post, "This group is negotiating a first contract after voting to join Teamsters Local 728. They immediately extended their picket line to the company's McDonough, GA yard and to Republic's yard in Evansville, Indiana. Members of Teamsters Local 728 in McDonough and members of Teamsters Local 215 in Evansville have refused to cross the primary picket line established by the Cumming workers. We even have reports that workers at Republic's non-union yard in Winder, GA went on their own strike in solidarity for a few hours this morning. We'll post more when we get details. With Marshfield still on strike in Massachusetts, Republic appears to have a real situation on their hands."
As of Tuesday mid-afternoon, staff at Peachtree City Hall had not been notified of the strike. With Republic being one of the three waste pickup companies licensed to operate in Peachtree City, several thousand homes could be without trash service until the work stoppage ceases.
Earlier last month, the Teamsters struck Republic, with some areas on Atlanta's southside being affected. That was settled by Aug. 10. It's not yet clear whether the same unit, represented by Teamsters Local 728, is the one affected in the latest labor unrest.
Currently, residents can choose among three different companies, according to the city's website: Pollard Residential Waste Services, Republic Services (incorporating Allied Waste, Allsouth Robertson, BFI, EPI and Environmental Partners) and Waste Industries (incorporating CLM, Cardinal Sanitation, Dependable Waste Services, Integrated Waste Solutions, Raintree Sanitation, Titan and Waste Management).