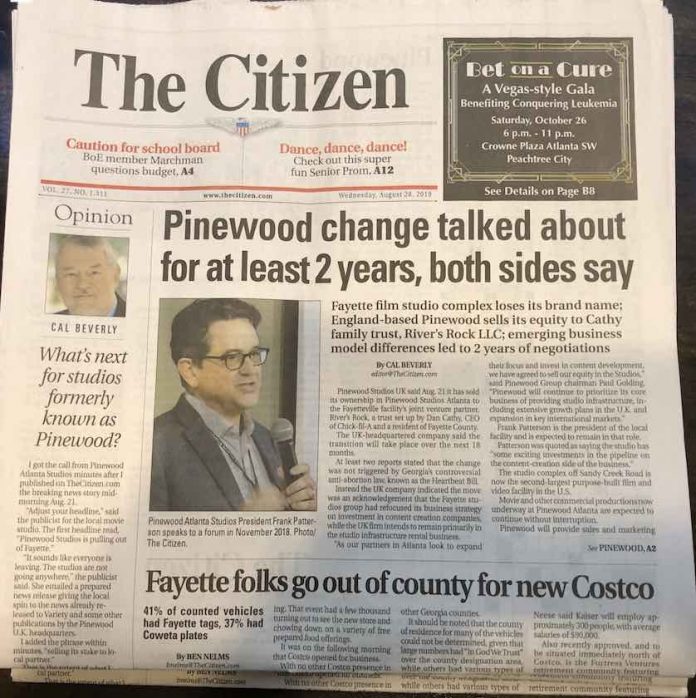 A letter to our readers, from the publisher:
It is my unhappy duty to report to you that this week's edition of The Citizen will be the last weekly print newspaper we will be producing and delivering.
We will continue covering and reporting on local news and events online with TheCitizen.com and with a free newsletter that will be launching soon. More details coming on those ventures.
Why stop the newspaper, you ask? The print edition was for the most part a free publication — no subscription required. It was supported almost entirely by the advertisements paid for by mostly local merchants and service providers. Every week, 25,000 copies landed in driveways and in newsboxes throughout Fayette County. That now has ended.
The entire newspaper industry is in deepening trouble. Advertisers have switched to Google, Facebook, direct mail and other methods of reaching potential customers.
Plainly put, not enough advertisers were buying what we were selling. Overhead, printing and distribution costs are very high to produce a newspaper every week. It was beginning to cost more to print and distribute a print newspaper than the ads were bringing in. It switched from a profitable business model to a break-even struggle to a losing process over the past decade.
You can cut costs only so far, before you don't have enough people left to produce a viable product.
I thank you for your business and your readership over a 26-year span. I hope you will continue reading our online, everyday edition and continue patronizing the advertisers who have chosen to support the online version of The Citizen.
It has been my privilege to serve this community for a quarter century. I  hope you will visit with me and our staff online as we continue on TheCitizen.com what we began in The Citizen.
Cal Beverly
Editor and publisher
editor@TheCitizen.com