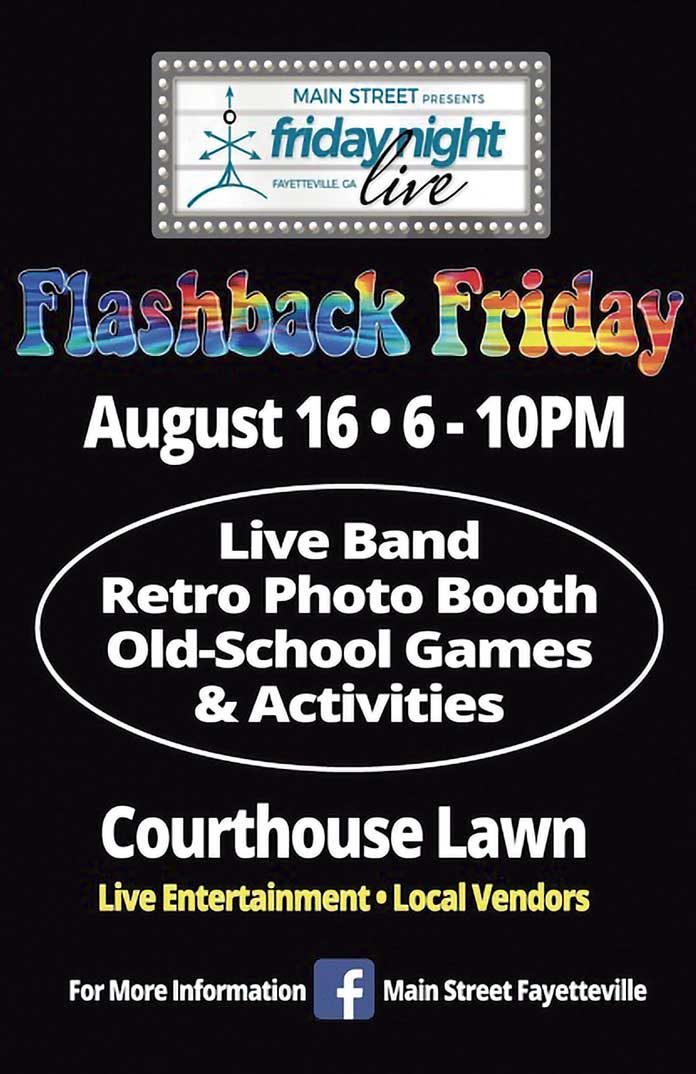 Main Street Fayetteville looks forward to 'Flashback Friday', Aug. 16 — 
The final Main Street Fayetteville Friday Night LIVE event for 2019 will be a blast from the past Aug. 16 as guests enjoy music, games and activities from the 1970s, 80s and 90s while dressed up in costumes from those eras.
The live band Phil and The Blanks kicks off "Flashback Friday" at 6 p.m. by covering the throw-back classics while the Rick's Ribs food truck plates up delicious ribs, pulled pork, pulled chicken and brisket.
Kid-friendly inflatables, face painting and sand art will be a highlight of the evening, and they are offered free of charge. A retro photo booth, old-school games and other activities will also be free. Rounding out the event will be more than 20 retail vendors from around the community.
The Fayette Rocks Kindness Project will have an interactive booth where kids of all ages can paint specially prepared rocks with pictures and messages to be distributed around the community.
As a bonus for our downtown guests that Friday evening, Courthouse Square retailers Betty's Collectibles and Uniquely Gifted will both stay open until 10 p.m., and Tribal Chick will stay open until 7. Friday Night LIVE runs 6-10.
"We have enjoyed our new Friday Night LIVE series, and we look forward to this Aug. 16 finale for 2019," said Main Street Program Manager Joyce Waits. "Having the retro theme will be extra fun. I can't wait to see how people dress up for the evening."
Guests taking selfies are invited to share them on social media using #FridayNightLIVE.
For more information, contact Joyce Waits at 770-719-4173 or jwaits@fayetteville-ga.gov.