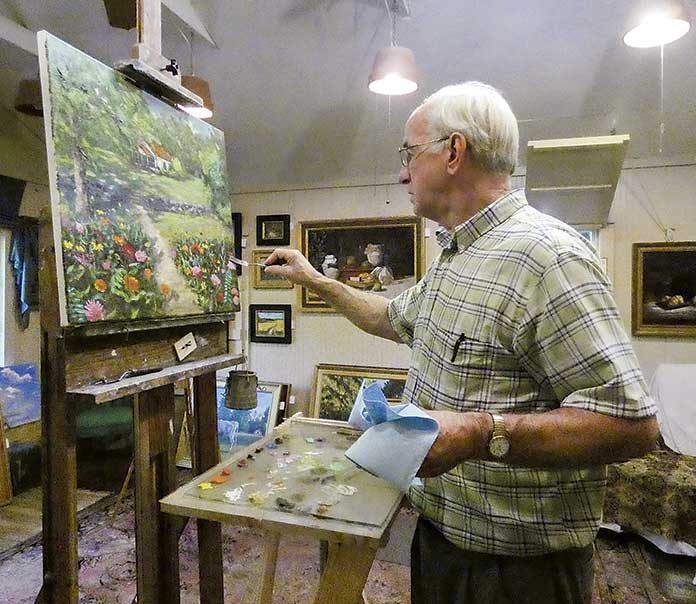 Art lovers from across the state plan for the exciting annual tour set for November — 
Thirty-seven artists in studios across Fayette and Coweta counties will be showcasing their talents and techniques, answering questions and selling their art during the 7th Annual Southern Hands Artist Studio Tour (SHAST). Visitors get a rare glimpse behind-the-scenes, see demonstrations and, at many of the artist's studios, be able to try their hand at creating a work of art Nov. 11, from 9 a.m. to 5 p.m. and Nov. 12 from 11 a.m. to 5 p.m. Some artists will be open on Friday and may have extended hours on each day (check the SHAST website for more information).
The variety of art covers the spectrum to include painting, fused glass, weaving, fiber art, ceramics, jewelry, woodturning, blacksmithing, photography and mixed media. Information on each artist is available on the SHAST website.
SHAST was started in Fayette County by local ceramic artist Andrea Boswell to educate those curious about the creative process and to inspire future artists. Under the guidance of Andrea and a team of volunteer artists, SHAST has grown tremendously and shown great impact in local communities each year. SHAST is focused on continuing to ensure the best possible experience for visitors and showcasing amazing artists in Fayette and Coweta Counties.
SHAST is free for attendees and is held the 2nd weekend in November each year. Visitors are provided with addresses for all the artists or may print a map available on the SHAST website and may start at any studio. Along with art, information, some hands-on participation and fun, guests can enjoy a variety of refreshments at each studio.
SHAST is supported by local businesses and other generous donations. Stamps Store Fixtures, Piedmont Insurance Associates, Daven's Ceramics Center, Funky Shack Mercantile and Corner Arts Gallery are just a few companies supporting the arts in Fayette and Coweta.
To learn more about SHAST, a 501c3 non-profit, visit the website @ www.SHASTour.com, follow along on Instagram @southern_hands_artist_tour_ga, Facebook @artstudiotourga, or sign up for SHAST Blasts on the website.