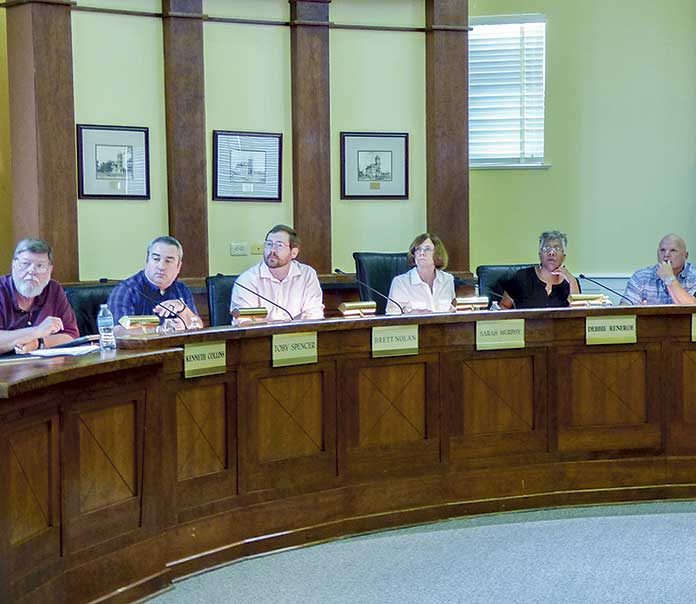 Piedmont Fayette Hospital received a height variance on May 28 which will permit its new 5-story building to reach a height of 70 feet.
The variance request to increase the maximum height from 60 feet to 70 feet was approved by the Fayetteville Planning and Zoning Commission on a unanimous vote.
The 5-story building totaling 129,991 sq. ft. will be located on a portion of a 22.68-acre parcel situated west of the hospital and north of the 1279 Professional Building along Ga. Highway 54 West.
The first floor is expected to total 18,000 sq. ft., with the second floor at 25,620 sq. ft. and with the three top floors totaling approximately 27,500 sq. ft. each.
The building elevations will match the existing buildings located on the hospital campus with materials consisting of brick, stone, aluminum storefront and glass.
A total of 288 parking spaces will be displaced during construction of this project. The new parking lot to be constructed on the undeveloped land to the north of the subject parcel (known as the Horton Tract) along with the parking spaces provided for the new medical office will provide a total of 709 parking spaces. The net parking is 421 spaces, with 23 handicap spaces and eight van handicap spaces provided.
2 new

 

drive-thru restaurants coming to Hwy. 85 North
Special exceptions for restaurants with drive-thru windows at the May 28 meeting of the Fayetteville Planning and Zoning Commission will lead to the construction of a Panda Express and a Freddy's Frozen Custard and Steakburgers across from the Lowe's store on Ga. Highway 85 North in Fayetteville.
Freddy's Frozen Custard and Steakburgers and Panda Express are the two most recent approvals on the 35-acre Satterfield property located on Hwy. 85 North, just north of Banks Road.
Development approvals in January resulted in outparcel placements for Discount Tire and a RaceTrac to be located on the site.
Self-storage facility approved for Hwy. 314
The concept plan for a 74,114 sq. ft. self-storage facility on Ga. Highway 314 adjacent to the west side of the Lowe's store was approved May 28 by the Fayetteville Planning and Zoning Commission.
As proposed, the 2-story, climate-controlled facility will total 74,114 sq. ft. with 1,000 sq. ft. of office space.
The building will front Hwy. 314, and will be situated between the highway and the Lowe's store.
The building material consist of brick veneer, herringbone wrought iron panels and aluminum canopies over entrances. The office area windows will be clear glass, and the false windows will be spandrel glass.
The approval came with the condition that additional brick and wrought iron be used.