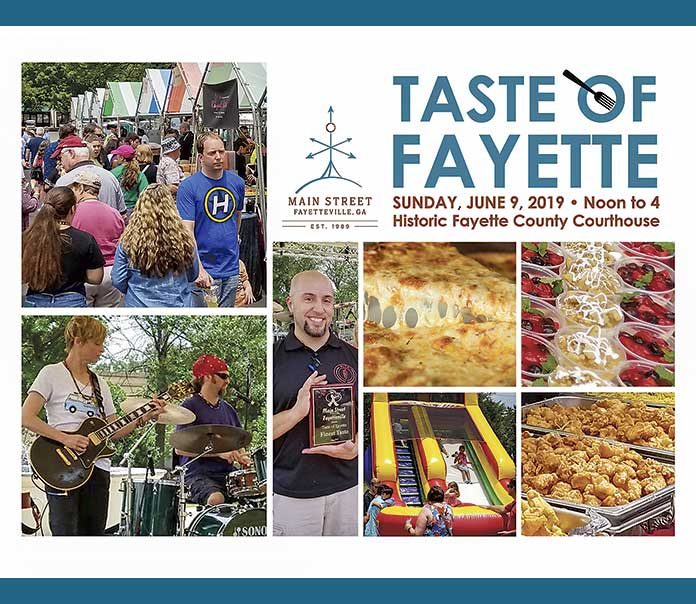 The 18th annual Taste of Fayette foodie festival returns Sunday, June 9, to the historic Fayette County Courthouse lawn.
This is the second one to take place on the old courthouse grounds. Running from noon to 4 p.m., 17 food vendors from all over Fayette County will compete for "Finest Taste," "Finest Treat," and "Most Amazing Booth."
"This is Main Street Fayetteville's biggest fund raiser of the year, and we love the feedback we get from the community," said Main Street Program Manager Joyce Waits. "People love Taste of Fayette. We see a lot of families and groups of friends return year after year. It's a fun tradition."
Offering even more flavor to Taste of Fayette, this year's live music will be served up by Atlanta's own Soul Hound, who promise to deliver their trademark soul and R&B while stirring in a bit of this and a dash of that throughout the afternoon. A kid zone will be featured again this year with inflatables, face painting and balloons as well as rock painting with the much-loved Fayette Rocks Kindness Project.
Waits said a hallmark of each Taste of Fayette is the fact that the food vendors aren't just feeding the crowd. They're doing their best to win bragging rights for the coming year.
"Our restaurants really step up to the challenge," Waits said. "Our anonymous judges take their job seriously as well. When we hand out the awards at the end of the day, our judges have worked hard to pick the superlatives in each category."
Taste of Fayette food judges practice "blind testing", which means they are kept from knowing the identity of the competitor until after judging is completed.
Following are this year's Taste of Fayette competitors: AZN Sandwich Bar, Broadway Diner, Chicken Salad Chick, City Café, Gremlin Growlers, Highland Bakery, Indian Oven, Johnny's Pizza, O'Charley's, Orleans Brews & Beignets, Oz Pizza, Shelly's BBQ, Star of India, Taco Mac, TCBY, The Fusion Chef's Eatery, and Twisted Taco.
Generous tastes from each food vendor will be available for purchase using tokens sold 10 for $5. Coca-Cola trailers and the Gremlin Growlers booth will be on site to keep the crowd cool with drinks also purchased by tokens. The number of tokens required for different food and drink items will vary. An ATM will be available on site.
Portable toilets and hand-washing facilities will be on site.
Parking for Taste of Fayette is available all around the Courthouse Square, including Stonewall Village by the new Lane Brown Gazebo and Fayetteville City Hall located just south of the square by Fayetteville Fire Station #91. A Downtown Parking Map is available online at Fayetteville-GA.gov/DowntownParking.
For more Taste of Fayette information, contact the Main Street Fayetteville office at 770-719-4173 or jwaits@fayetteville-ga.gov.