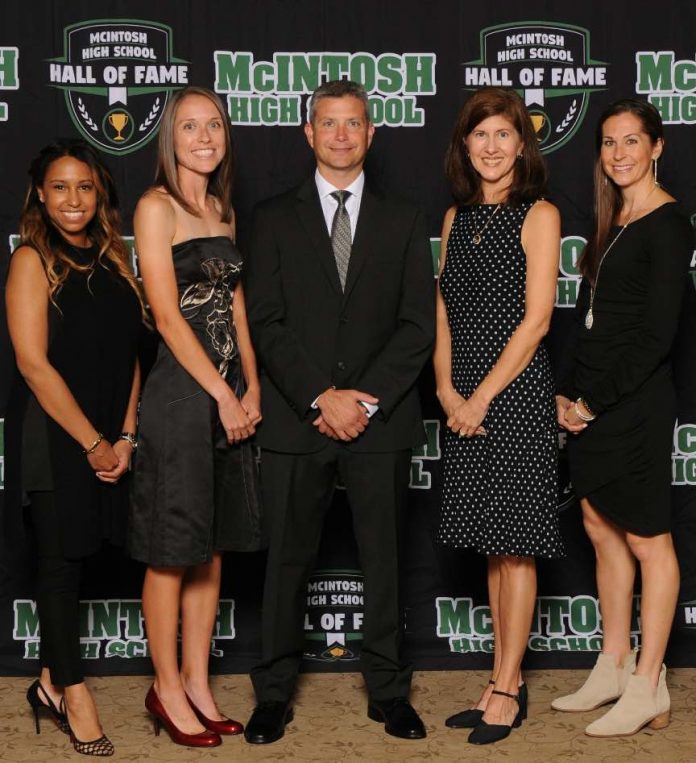 McIntosh High School's 8th Annual Hall of Fame is in the books but memories of a special night of recognition remain vivid.
Five impressive McIntosh Chiefs, pictured above, along with the 1996 Boys State Championship Cross Country Team, were honored this past October. From left to right, the Class of 2018 inductees are:
Rachel Melendez Mabee, Class of 1999, (Golf Individual State Champion; two-time Golf Team State and Region Champions; competed in the US Girls Junior Championship Tournament);
Emily Borsare Enriquez, Class of 2007, (State 1600m and 3200m Champion; Cross Country Team State Champions; Individual Cross Country Region Champion; three-time Region and County 1600m and 3200m Champion; two-time County Cross Country Team Champions);
Distinguished Alumni Scott Bracco, Class of 1989, (21 years highly successful coaching experience, including 18 years as head coach; three-time Georgia High School Basketball Coach of the Year; six-time Region Coach of the Year; one National Championship, two State Championships, four Final Four, one Elite Eight, five Sweet 16s; Chairman Atlanta Tip-Off Club; three years collegiate basketball playing experience, including Alabama State Junior College State Championship Team that was 6th in the nation);
Distinguished Alumna Dawn Colbert Burnette, Class of 1986, (Created "Daily Grammar Practice" which is used in middle and high schools in all 50 states and at least 20 foreign countries; Fayette County Teacher of the Year and the county's first-ever State Finalist; coached Chiefettes to seven State Championships);
and Julie Herdic Gallagher, Class of 2001, (two-time High School Soccer All-American; Georgia Athletic Coach's Association Female Soccer Player of the Year; Soccer Team State Champions; three-time Georgia Soccer Olympic Player Development Team).
The Hall of Fame committee is now preparing to select the next class of inductees to be honored at the 9th Annual Hall of Fame weekend on 18-19 October 2019. Nomination forms for Athletes and Distinguished Alumni are found on the Hall of Fame website: www.mcintoshhalloffame.wixsite.com/chiefs and are accepted year-round.
However, to be considered for the 2019 Hall of Fame class, nominations are due by midnight Monday, April 15. Athlete nominees must have graduated from McIntosh at least ten years ago and Distinguished Alumni nominees must have graduated from McIntosh 20 years ago. Long time faculty members are also eligible to be nominated. Additional details can be found on the Hall of Fame website.