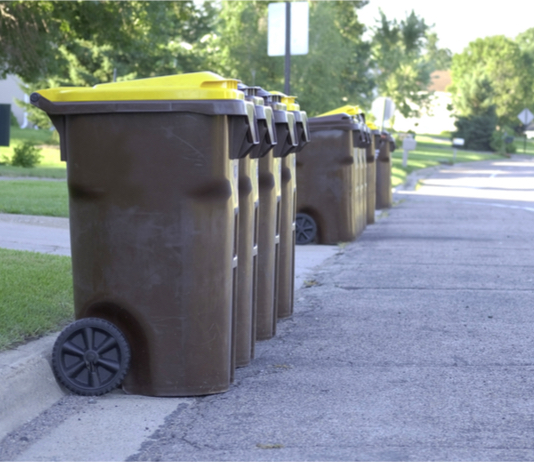 Original single provider directive found little support on council; how to pay increased costs of maintaining neighborhood streets still unanswered —
Single-provider, mandatory trash pickup service got dumped Thursday night by the Peachtree City Council.
Instead, city staff will send out a scaled-back request for bids from any interested residential solid waste companies intended to give the council information about what steps to take next.
"There's no desire tonight for a one-provider hybrid approach" [to citywide trash pickup], said Councilman Mike King.
Removed from the request for proposal by a 4-to-1 vote was the notion of mandatory participation by more than 10,900 households, as was the initial idea of limiting the public's choice of providers.
"I wasn't elected by the citizens of Peachtree City to tell them what color they can paint their houses," Councilman Terry Ernst said. "I'm not likely to tell them who can pick up their trash."
Councilman Phil Prebor asked for more flexibility in the bids, providing people a chance to opt out of the mandatory approach.
Councilman Kevin Madden wanted more information gathered through the RFP process. "We owe it to the people of Peachtree City to find out if … it's possible to save money, that the roads might last longer. We don't want to make the mistake of past councils" [in taking no action on pressing maintenance issues].
Mayor Vanessa Fleisch suggested an alternative approach might be to add $10.32 to everyone's quarterly trash bill to pay for the extra costs of repaving streets damaged by the heavy trucks from multiple companies.
City Manager Jon Rorie said the revised RFP will seeks bids on weekly curbside garbage pickup plus a biweekly schedule of recyclables. "Mandatory" participation by all city residents will be removed from the RFP, Rorie said.
City staff said one trash truck causes more damage to residential streets than more than 7,000 cars, and more than 40 UPS or Fed-Ex trucks. Rorie said it would take the equivalent of a 1 mill increase in the city property tax rate to pay for repairing street damage caused by the big trucks over the next several years.