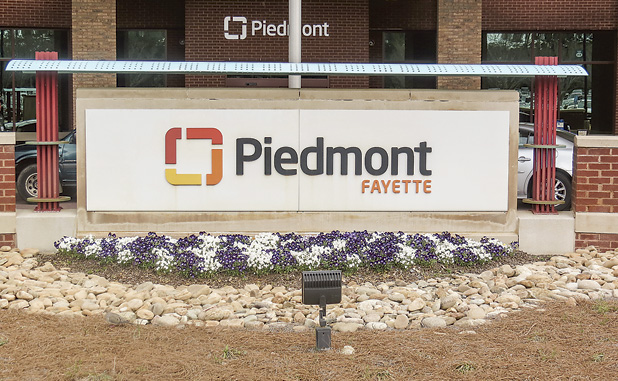 Fayetteville approves addition of 266 parking spaces —
A proposal that will add 266 parking spaces on the northwest side Piedmont Fayette Hospital was approved Feb. 21 by the Fayetteville City Council. Other plans for the site will lead to the construction of a 126,000 sq. ft. oncology center.
The hospital had requested a rezoning from R-70 (single-family residential) to OI (office institutional) for a future hospital campus expansion on the 22.6-acre site, situated on the hospital's northwest side.
In attendance at the Feb. 21 meeting, hospital CEO Michael Burnett said additional plans call for a 5-story oncology center and additional parking once the initial 266 parking spaces are installed.
Burnett said the new building will total 126,000 sq. ft., or 25,200 sq. ft. per floor. He said the expectation is for the hospital to submit the initial conceptual plans for the new building in the spring. The hope, said Burnett, is that the new building will open in late 2020.
A portion of the property approved Feb. 21 for 266 parking spaces is situated adjacent to the parking area located to the northwest of the hospital and is located between the hospital and Ga. Military College property on Veterans Parkway.
A 24-foot access drive was shown on the conceptual site plan connecting to an existing curb cut located off of Veterans Parkway near the Georgia Military College campus.
The request was recommended for approval Jan. 22 by the Fayetteville Planning and Zoning Commission.