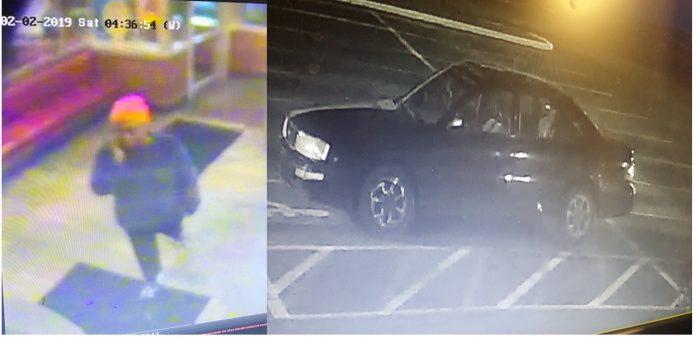 Fayetteville police are searching for this person and vehicle in connection with shots fired into two homes on Feb. 2. Photo/Fayetteville Police Department.
A BOLO (be on the look-out) has been issued in connection with shots fired into two homes on Jeff Davis Place in Fayetteville on Feb. 2.
Fayetteville police said there is a person of interest in the case, with detectives also looking for a 1990-1995 Lexus LS 400.
Fayetteville Police Department spokesperson Ann Marie Burdett said one of the Feb. 2 incidents was reported on the 200-block of Jeff Davis Place off North Jeff Davis Drive at approximately 1:30 a.m.
The resident told officers what was thought to be gunshots were heard, and finding what looked like small bullet holes through a window and in a wall.
Officers found one bullet hole in a window and one in an adjacent wall, Burdett said.
A second call to police came at approximately 5 a.m. from a resident on the 300-block of Jeff Davis Place, with the resident reporting having heard two "pops," Burdett said.
Burdett said a bullet traveled through a wall and a closet and was found on a child's bed.
Burdett said both incidents are under investigation.
Officers have conducted a thorough canvas of the neighborhood and have increased patrols in the neighborhood and surrounding areas.
Anyone with information pertaining to these crimes is asked to contact the Fayetteville Police Department at 770-461-4441.