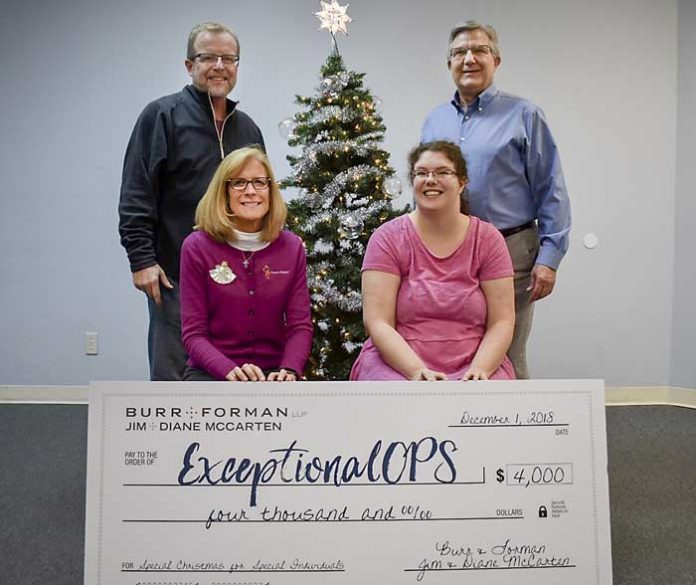 The hope and joy of Christmas is reflected in the faces of our kids as they receive gifts and share in the special holiday meal. To help make sure those with special needs also share that joy this Christmas, ExceptionalOPS (ExOPS) in collaboration with Exceptional Children's Services (ECS) of the Fayette County Public Schools, announces the kick-off of the annual Making Christmas Special for Special Families campaign.
Helping ensure the success of this year's effort, Fayette County Chamber member Burr Forman, LLP, a law firm serving Fayette County and metro-Atlanta, along with local residents Jim and Diane McCarten (Jim is a member of Burr Forman) have once again shown their support of the Fayette community by starting the Making Christmas Special campaign with a gift of $4,000.
The Burr Forman – McCarten family gift will be not only be the initial investment in Making Christmas Special for Special Families program, it will also fund the Christmas gifts handed out at this year's ExOPS Christmas party for those children and families it serves.
In collaboration with ExOPS, ECS identifies families in need and distributes the gift cards that can be used to brighten each family's holiday season. Gift cards are provided to the recipients anonymously.
The identity of each recipient is confidential and counselors from the school system locate the families in need and deliver the gift cards.
ExOPS is a 501 (c) 3 charitable organization that provides educational programs, social events and daily consultation for families with loved ones with developmental disabilities. It is located at 100 Governor's Trace, Suite 107, in Peachtree City, GA. Scott Johnson, chairman of the board of ExOPS says, "This gesture of goodwill can make a big difference in the celebration of the holidays for these families. Many of these families struggle with the burden of extraordinary costs associated with supporting their kids with disabilities".
Janet Smola, executive director of ExOPS, said, "There are always more families than the Making Christmas Special program can support. These are the quiet neighbors struggling to support their child with special needs while making ends meet during the holiday season."
If you, your employer, business or co-workers are moved to help, ExOPS, ECS, Burr Forman and Jim and Diane invite you to contribute to the program. Donations can be mailed to ExOPS at the address above or call Janet Smola at 770-639-9169.