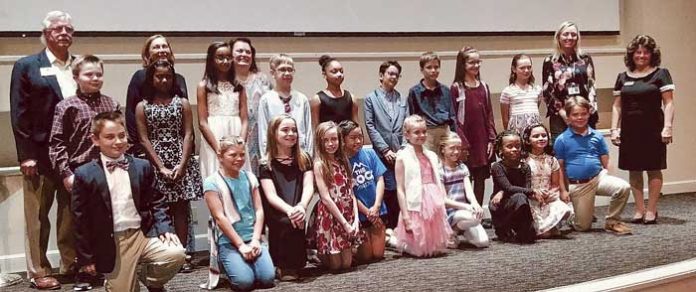 Kedron Elementary has offered students an opportunity to get involved in community service at an early age with their new K-Kids program.  K-Kids is a Kiwanis service club for students in elementary school. The program cultivates servant leadership and promotes helping others by taking part in community service projects. 
Twenty-eight fourth and fifth grade students were initiated as members of K-Kids during the charter ceremony held at the Peachtree City Conference Center.  Students will meet once a month to discuss community service projects, upcoming events, activities, etc. To kick off the program, Kedron's K-Kids participated in The Real Life Center's Food Drive and supplied food donations for families in need.
The Real Life Center is a non-profit organization serving permanent resident families in Fayette and Coweta counties that are going through difficult times. Students are also looking forward to assisting with holiday service projects for local senior citizen centers. 
Pictured are Kedron's fourth and fifth grade students attend the charter ceremony for the new K-Kids program.  Photo/Submitted.