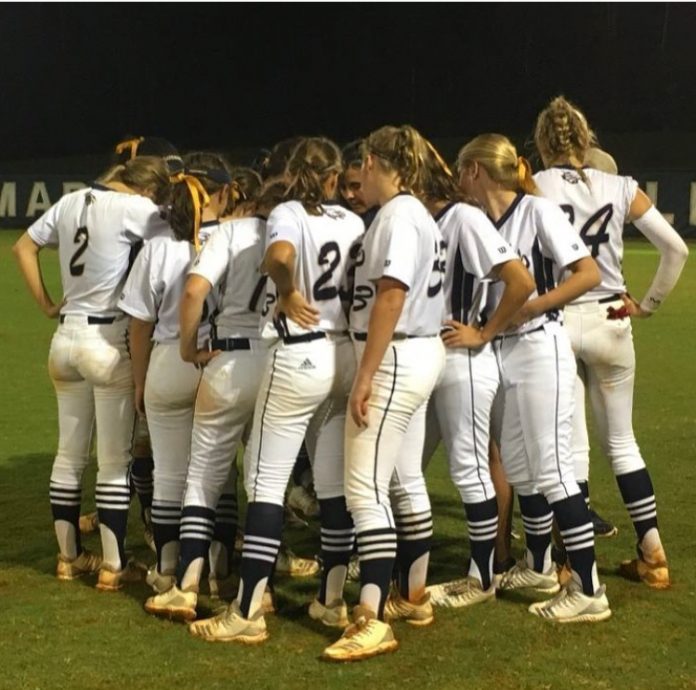 Second-round matchups are set in the GHSA state softball playoffs, with bad weather last week delaying some first-round series several days.
The round of 16 takes the field Oct 16-19 in all classifications. The winners will be reseeded for the state tournament, scheduled for Oct. 25-27 at the Columbus Softball Complex.
Defending AAAAAAA state champion East Coweta defeated North Cobb 10-0 and 16-0 in the first round and will host either Cherokee or Colquitt County. In the AAAAAA bracket, Northgate defeated Winder-Barrow 6-3 and 4-2 to set up a home series against Dalton.
Two AAAAA teams saw their seasons end before press time. McIntosh lost to Statesboro 8-0 and 15-1. Whitewater lost 5-0 to Ware County, came back with a 14-8 win before falling 4-3 in the third game.
Starr's Mill was still alive after the weekend, having split with Wayne County after an 8-3 win and a 4-3 loss. That forced a third game Monday evening, and Starr's Mill got the win there to advance to the next round starting Thursday at Locust Grove.
Landmark defeated Walker 6-0 and 12-2 to advance in the A Private bracket, with the next series at Stratford. Trinity lost to Brookstone 9-1 and 5-0.
In the above photo, Landmark's softball team takes the field during the first round of the state playoffs against The Walker School. Senior pitcher Julia Allen threw a no-hitter to lead the team to a 6-0 win in the first game.