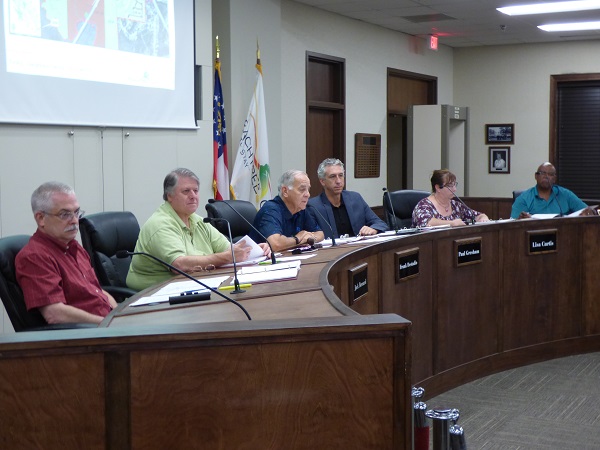 Members of the Peachtree City Planning Commission at the Sept. 24 meeting included, from left, commissioners J.T. Rabun and Jack Bernard, Chairman Frank Destadio, and commissioners Paul Gresham, Lisa Ann Curtis and alternate Commissioner Michael Link. Photo/Ben Nelms.
Conceptual plans for the Bridge Park commercial development on Ga. Highway 74 North along with those for Panera Bread, an unnamed coffee shop and a dental office at the Wilshire Pavilion on Hwy. 74 South received approval Sept. 24 from the Peachtree City Planning Commission.
The conceptual site plan for the Bridge Park proposal near Aberdeen Parkway and adjacent to the Hilton Garden Inn received unanimous approval. One of the businesses located in the two buildings is expected to include a McAlister's Deli restaurant.
Though denied in August, the applicant returned with a plat recorded in 2014 that was determined by the city attorney to negate the need for commission approval for the prior highway buffer reduction request by way of a vested right.
Also receiving unanimous approval were three commercial sites located on two lots along the west side of Hwy. 74 South in the Wilshire Pavilion retail area.
The conceptual site plan proposal by McWhirter Realty for one of the lots included a 4,480 sq. ft. building to house a Panera Bread restaurant that will contain two separate tenant offices and, adjacent to it, a freestanding coffee shop totaling 2,000 sq. ft. Both Panera and the coffee shop will include drive-thru windows.
Though drive-thru windows, by ordinance, have been an issue in the area and with Burger King denied approval in 2016 because the adjacent Zaxby's was already outfitted with a drive-thru, the ordinance specific to Wilshire noted that, "This provision shall also not preclude individual tenants from maintaining drive-thru windows for pick-up of food or drink orders, so long as such tenants are in a building with at least two other individual tenants. In addition to one freestanding restaurant as described herein, this restriction shall not preclude a freestanding coffee shop with a drive-thru window from being located within the overall development."
The Panera building will include two small separate suites to be rented as supplemental offices for uses such as real estate or insurance, McWhirter said.
Also by unanimous vote, commissioners approved the conceptual site plan and elevations for a 4,280 sq. ft. building to house Heartland Dental. The building will be situated adjacent to the Panera and coffee shop lots and near Rockaway Road.