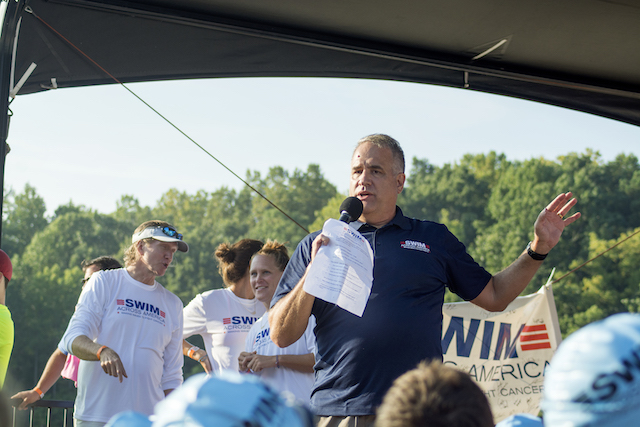 Swim Across America-Atlanta returns to Lake Lanier Sept. 22, uniting more than 600 regional swimmers of all skill levels, Olympians, and cancer survivors to make an impact on cancer research locally. Annually, the Open Water swim raises funds for clinical research trials at Aflac Cancer and Blood Disorders Center of Children's Healthcare of Atlanta.
More than 20 Olympians are expected to attend the open water event and participate in an autograph clinic for the 600 registered swimmers and Olympians, 200-plus land volunteers and over 250 spectators. Swimmers can swim individually or as part of a team, and can choose from half-mile, 1-mile, 5K distances as well as a Duck Splash for young swimmers.
In just six years, SAA-Atlanta has grown into a top event in both fundraising and attendance for Swim Across America (SAA) who hosts swim events coast-to-coast that fund life-saving cancer research. Key to the success of the SAA-Atlanta swim are 40-plus local swim teams from high schools, colleges, swim clubs, families, and corporate teams like Sponsors Accenture and Cisco who dive into "fun" raising in honor and memory of cancer warriors. To date, SAA-Atlanta has raised $1.75 million overall with $1.2 million funding research at Aflac Cancer Center.
Peachtree City resident Rob Copeland, pictured above, is a highly decorated U.S. Masters swimmer who has worked as a volunteer on Swim Across America-Atlanta. He has previously been the event's safety coordinator and is this year's swim course coordinator.
He brings a wealth of knowledge of swimming, long distance and open water, serving on both national and local levels of the USMS (United States Masters Swimming) since 1983 and is currently at-large director and national past president.
Copeland is credited with helping SAA-Atlanta become known as the "Super Bowl of Swims" due to its size, fundraising, sponsorship and team spirit. The goal of this year's event is to raise $500,000 for Aflac Cancer and Blood Disorders Center of Children's Healthcare of Atlanta.
"For our swimmers and even our land volunteers, the real race has become the fundraising and is fueled by a great passion for the cause," said Nancy Tao, SAA – Atlanta event director. "Every registered swimmer commits to a fundraising minimum of $200 for youth or $400 for adults, but many of our swimmers more than surpass these numbers.  At last year's swim, the two highest individual fundraisers generated $35,487 collectively and our top team – Swim Atlanta – raised $57,375."
Not only the survivors, but also their medical team keep the swimmers connected to the cause.
"On event day, there's an extraordinary bond between our teams, the doctors, and our survivors," said Missy Franklin, two-time Olympian and world-record holder who tops the list of dedicated participants. "You are surrounded by an amazing group of individuals from some of the world's best swimmers to regional and beginning swimmers, including survivors. Everyone is diving in with a determination for a cancer cure and it's truly a powerful experience." 
Part of that determination is led by Dr. Douglas Graham, MD, PhD, Director of the Aflac Cancer and Blood Disorders Center. "Thanks to partners like Swim Across America, the Aflac Cancer Center remains a national leader in pediatric cancer treatment by developing protocols that improve the way we fight childhood cancer," said Dr. Graham. "Swim Across America's commitment to cancer research, including our new clinical trial for patients with Acute Myeloid Leukemia (AML), is critical to helping us find innovative treatment options."
To swim, volunteer or donate, visit www.swimacrossamerica.org/atlanta or simply Text to Donate by texting "SAA" to 24587.