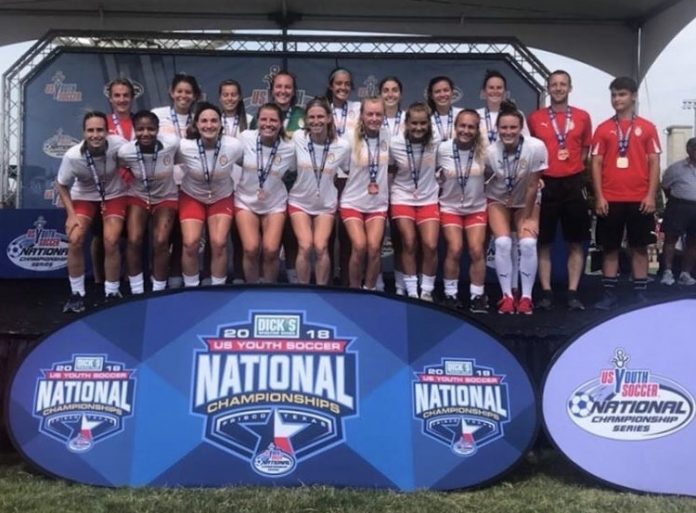 The AFC Lightning '99 Elite Girls team recently returned from Frisco, Tex., as bronze medal winners in the 2018 US Youth Soccer National Championships.
Leading up to the Nationals competition, the girls won the Georgia State Cup 3-2 over NASA Top Hat, sending them off to the 2018 Southern Regional Championships in Greensboro, NC where they went undefeated against the best teams in the south.
Goalkeeper Samantha Hoffman, who only allowed one goal the whole tournament, was awarded the Golden Glove Award and forward Mollie Belisle, who was the top goal scorer of the tournament, was awarded the Golden Boot award at the Regional Championships.
At Nationals, the team played against some very tough competition and barely missed making it to the finals after a tough 0-1 loss against NSA Shock from Illinois, who went on to take the National Championship.
Goalkeeper Samantha Hoffman was also recognized as one of the "Best 11" in the U-19 Girls category at the National Championships.
 
On the front row, from left: Taylor Malasek, Kai Jeffries, Rebecca Morris, Rachel Davison, Madeline Goodfellow, Macey Voorhies, Chloe Thompson, Abbie Crane, Morgan Dewey.
Back row: Coach Steve Muccillo, Sophia Bonser, Kimmy Edgeworth, Sam Hoffman, Kylie Doster, Annie Mayo, Jolie Ryff, Mollie Belisle, Coach Christian Dane, Coach Brooklyn Muccillo.