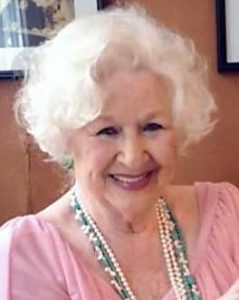 Iva Colleen Ogletree Childress passed away July 25, 2018, at the age of 93, at her home in Sharpsburg, Ga. This exuberant woman was born in Birmingham, Ala. and later moved to Buckhead, Ga., attending North Fulton High School.
She was an early entrepreneur and landed her first job at 16 years of age at the Federal Reserve Bank. She met and married the love of her life, Theodore Eugene "Ted" Childress, for nearly 52 years. This dynamic duo opened Childress Realty, serving the South side of Atlanta and were in business for over 60 years. She walked in faith every day, always giving praise to her Lord and Savior, Jesus Christ. She was an ambassador for Jesus and was a member of First Baptist Church of Peachtree City. She was an inspiration to all of whom knew her, never meeting a stranger. She was known for always delivering a meal to anyone who might need one, or just because. She was a beautiful woman, angelic and sweet; bringing sunshine and smiles to all of those she met.
She was survived by her two daughters, MaryJean Childress Voegtlin and Sherri Childress and (Michael) Newsome; MaryJean's children: Stewart and (Katrina) Voegtlin; their son Trey, MaryBeth and (Arondale) Withers; Sherri and Michael's children, Dawn and (Kay) Kellerhouse; their children, Rose and Louis, Heather Colleen and (Ed) Smith; their children Gunnar and Desiree, Jeffrey Newsome, Kiersten Newsome, Christy and (Jason) Dalton; and their children, Lexie, Taylor, and Jacob.
In lieu of flowers, memorial contributions can be made to the First Baptist Church of Peachtree City.
Arrangements made under the direction of Carmichael-Hemperley Funeral Home & Crematory, 135 Senoia Road, Peachtree City, Ga. 30269, 770-631-9171.