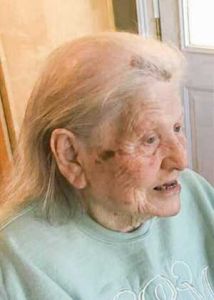 Oweeda McCullough Seay, 93, died July 2, 2018.
She was a lifetime resident of Fayetteville. She worked with the Federal Government most of her working years and retired from the National Park Service. She also served as a secretary at Fayetteville First Baptist for Mr. Davis and Mr. Overton.
Oweeda was preceded in death by her husband of 62 years, Lewis E. Seay and son, Ricky Seay. She is survived by her son, Larry and Janet Seay; daughter-in-law, Connie Jesser;   grandchildren, Tara and Jason Christian, Caitlin Baird, Amanda and Paul LaRocca, John Seay, Matthew and Kayli Seay, and Robert Hawn; great-grandchildren, Scarlette , John, Brooklynn, Brantley, Brayden, Madison, and Easton Seay, Andrew, Katie and Ariel Christian, Isabella LaRocca; and extended family,   Sandi and Robert Manders, Stephanie and Bill Kennedy, Carin Constantine, Mark Manders, Jeanne and John Bright.
She was a member of Fayetteville First Baptist where the funeral was held on July 6, 2018, with Rev. Glenn Stringham officiating. Burial was held at Camp Memorial Park, Fayetteville.   In lieu of flowers, contributions can be made to the Senior Homebound Services at Fayetteville  First Baptist, www.fayettevillefbc.org.
Carl J. Mowell & Son Funeral Home, Fayetteville – www.mowellfuneralhome.com