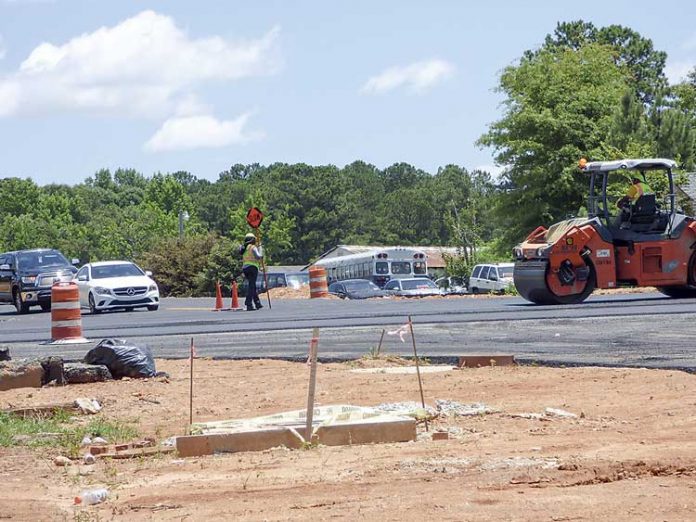 Work on the two-way stop intersection at Veterans Parkway, Ga. Highway 92 North and Westbridge Road in north Fayette County is nearly complete. The new intersection will open in July.
---
Above, work on the new intersection at Ga. Highway 92 North, Westbridge and Veterans Parkway is nearly complete, with the new intersection linking to Fayetteville's west side expected to open in July. Photo/Ben Nelms.
---
Fayette County Public Works Director Phil Mallon said the project for the new intersection at Veterans Parkway and Hwy. 92 North included realigning Westbridge Road. Crews installed a two-way stop at the new intersection and provide turn lanes along Hwy. 92 North.
Mallon said the project is nearly complete, with the intersection opening sometime in July. That will be good news for motorists who have recently endured long waits to manuever through the work area.
A portion of the intersection work includes repaving a section of Hwy. 92 on either side of the intersection.
Given that Veterans Parkway begins at Ga. Highway 54 West in Fayetteville, the new intersection will provide a traffic alternative for those travelling north from the city's west side, Pinewood Atlanta Studios and Pinewood Forest.
The new intersection was originally slated for a roundabout, but significant issues with adjacent property and with utilities in the area resulted in DOT opting for a two-way stop, Mallon said.
The Georgia Transportation Infrastructure Bank (GTIB) in August 2017 awarded a $300,000 grant for work on the intersection. The grant award was approved by the Fayette County Commission in August 2017.
Commissioners in May 2017 unanimously approved a $894,881 bid by E.R. Snell to construct the intersection. The $300,000 grant award was used to offset the cost of the project.