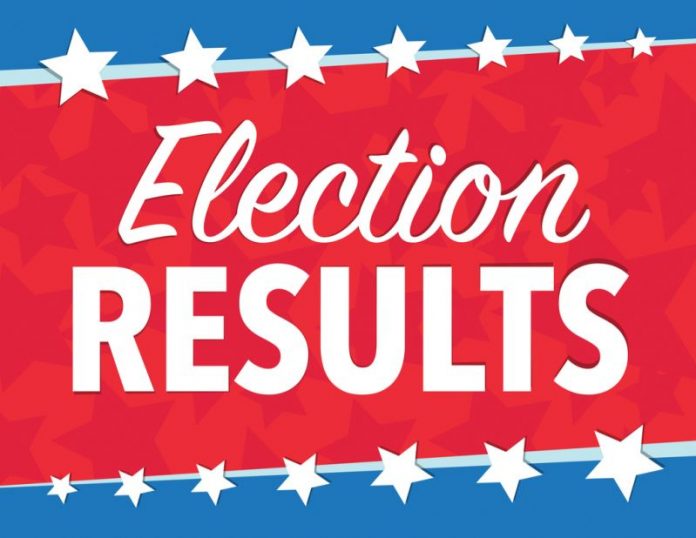 A 22.52 percent voter turnout in the May 22 primary elections in Fayette County resulted in a political newcomer winning a seat on the Fayette County Commission, a former high school principal lining up for a November Board of Education contest and Fayette's General Assembly incumbents coming out on top in their primaries.
First time Republican candidate Edward "Edge" Gibbons defeated former Peachtree City Councilman Eric Imker and former Peachtree City Mayor Don Haddix in the race for the District 3 seat on the Fayette County Commission.
[Does election portend a "Blue Wave" headed for Fayette? See Letters to the Editor.]
Gibbons took 50.2 percent of the vote, negating the need for a runoff election, while Imker took 31.26 percent and Haddix received 18.54 percent.
The vote on the District 2 race on the Fayette County Board of Education had former Whitewater High School Principal Roy Rabold defeating real estate agent Traci Fuller 61.44 percent to 38.56 percent in the Republican primary. Rabold will face Fayetteville Democrat Sarah Van Etten in November.
District 16 state Sen. Marty Harbin (R-Tyrone) won the primary election, defeating Peachtree City challenger Tricia Stearns 62 percent to 38 percent in a race that included Fayette, Spalding, Pike and Lamar counties.
District 34 state Sen. Valencia Seay (D-Riverdale) defeated challenger Melody Totten, receiving 75 percent of the vote compared to 25 percent for Totten.
Incumbent Rep. Debra Bazemore (D-Riverdale) defeated challenger Linda Pritchett 59 percent to 41 percent in the District 63 race.
The District 71 race in the Georgia House, which includes about 3,000 people in northwest Peachtree City, had Rep. David Stover (R-Newnan) defeating challenger Samuel Anders by a nearly 2-1 vote. Stover received 64 percent of the vote, with Anders receiving 36 percent.
State Rep. Josh Bonner (R-Peachtree City) retained his seat in the race against challenger Mary Kay Bacallao, with a strong showing that resulted in Bonner receiving 71 percent to 29 percent for Bacallao.
Primary races for governor resulted in a face-off in November between Democrat Stacey Abrams and the winner of the Republican runoff election.
Abrams received 76 percent of the statewide Democratic vote compared to 24 percent for Stacey Evans.
Lt. Gov Casey Cagle in the Republican primary took 39 percent of the vote in a crowded field, with Brian Kemp receiving 26 percent, thus triggering a July 24 runoff election.
In the primary races for the District 3 seat in the U.S. Congress, incumbent Republican Drew Ferguson amassed 74 percent of the vote, compared to 26 percent received by challenger Philip Singleton.
On the District 3 Democratic ballot, Chuck Enderlin received 60 percent of the vote compared to 40 percent going to Rusty Oliver.
Fayette had 18,119 votes cast out of 80,458 registered voters, or 22.52 percent.
According to some media reports, Fayette's votes were tallied faster than the other metro Atlanta counties.