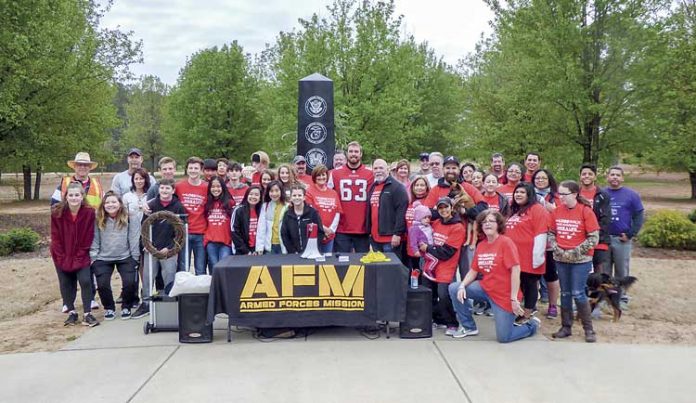 Nearly 70 people gathered at Patriot Park in Fayetteville early on March 24 to make a statement at the Armed Forces Mission (AFM) and Stop Suicide USA inaugural LOSS Walk. LOSS is an acronym for Local Outreach to Suicide Survivors.
---
Above, a large group attended the March 24 inaugural LOSS (Local Outreach to Suicide Survivors) Walk at Patriot Park in Fayetteville. Wearing the No. 63 jersey was Atlanta Falcons guard and veteran Ben Garland. Photo/Ben Nelms.
---
Held at Patriot Park on Redwine Road, the Loss Walk served as a way to support those who attempted suicide and to those who lost a family member to suicide. And it was the family members of people lost to suicide in Fayette and Coweta counties that made up a large portion of those attending the walk on that Saturday morning.
AFM Chaplain Kenneth Koon made the intent of the event clear.
"The goal is to shut down the LOSS Team," he said.
Quoting statistics that many in Fayette and Coweta counties might find chilling, and given that the suicide rate in both counties is above the national average, Koon said 60 families in Fayette and 85 families in Coweta lost a family member to suicide in the past five years.
"Today is a day of hope. It's not about how people die, it's about how they lived. We're here today to remember their names and the fond memories," Koon said. "If there is any redeeming virtue in the pain of loss, it's that the survivors were brought together."
Attending the inaugural event was Atlanta Falcons guard Ben Garland. Hailing from the U.S. Air Force and the Colorado Air National Guard, Capt. Garland explained why he drove from Flowery Branch early Saturday morning to attend the first Loss Walk event.
 "I'm here to show support. Being in the military, we lose way too many people to suicide. A lot of the signs and symptoms are invisible," said Garland. "It's important to bring awareness to this cause. To lose anyone to this is unacceptable."
AFM member David Barlow put the Saturday morning event into perspective, saying, "We want to stem the tide on veterans' suicide."
For more information visit www.stopsuicideusa.org.