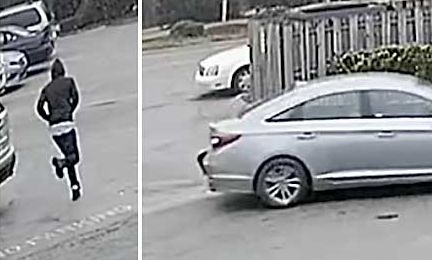 UPDATED | The man believed responsible for the Dec. 18 armed robbery of the O'Reilly's Auto Parts store in Tyrone was arrested by Bremen police during a Dec. 27 robbery of the O'Reilly's store in Bremen.
Dante Sparks, of Baltimore, Md., was charged as a result of the armed robbery, according to Tyrone Police Department spokesperson Andrea Johnson-McCoy.
Tyrone Police Chief Brandon Perkins on the department's Facebook page said, "Our O'Reilly suspect took one chance too many (on Dec. 27) and got himself caught … sounds like he almost got himself killed by pointing a gun at an officer during a robbery over in Bremen. Congrats, and a big thank you to every officer and every agency that has played a part in this investigation! A day late, but a wonderful Christmas gift to all of south metro Atlanta."
Perkins' reference was to a Dec. 27 post by the Bremen Police Department noting the arrest of an unnamed man who was arrested at approximately 8 a.m. at an O'Reilly's Auto Parts store after employees activated a panic alarm.
"The suspect is wanted in Douglas and Fulton Counties along with Villa Rica and Tyrone cities for armed robbery. The suspect is being held in Carroll County jail for numerous charges including armed robbery and aggravated assault," Bremen police said.
There have been several recent armed robberies at Dollar General and O'Reilly Auto Parts stores in Tyrone and other areas of metro Atlanta. One at O'Reilly's on Dec. 18 was different, coming with shots fired at an employee and at a man with three children in his vehicle that was rammed by the robber's vehicle in the getaway attempt. There were no injuries during the incident, though it was a close call for a 3-year-old girl.
According to published reports, "Michael McKinney happened to be parked next door at a gas station with his three kids in the car. He heard someone scream for help. When he realized a man had just robbed the store, he pulled forward to investigate, grabbing his cell phone to try to capture video of the getaway car."
A report from CBS46 said, "As he fumbled for his phone, the robber rammed his car, sending his phone flying. McKinney said that's when he and the robber looked right at each other. The robber was wearing a mask, but McKinney could see his eyes clearly.
"'When I seen him facing this way and I seen him reaching for something, I automatically told my kids, "Get down!"' said McKinney. 'That bullet went right through the window, right through her car seat, right where her head would have been. If she hadn't listened to me, my 3-year-old wouldn't be here right now.'"
The same store was the subject of an armed robbery near closing time on Dec. 4, along with O'Reilly's stores in Villa Rica and Douglasville, which were also robbed recently.
Perkins on another matter said the Tyrone department is switching from Facebook to the Nixle online platform Nixle for significant criminal incidents. The department will continue to use Facebook for some posts.
Used by a number of local law enforcement agencies, the free Nixle system provides alerts of criminal incidents and public safety information.
For more information on the department's use of Nixle visit http://www.tyronepd.org/alerts.html.