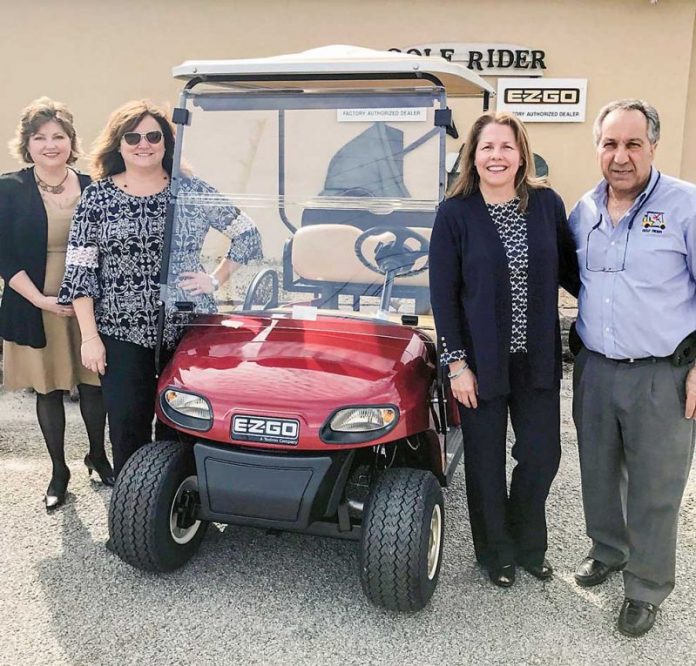 Sponsored Feature
When Frank and Patti Kadkhodaian relocated from Chicago to Peachtree City in 1997 with the first three of their four sons, they brought with them deep-seeded family values, a strong work ethic and desire to not just be part of the community, but to give back to a community that supports them.
For two decades, the Kadkhodaians have owned and operated Golf Rider, Peachtree City's only factory authorized dealer and service provider for E-Z-GO and Textron Off Road brand golf carts. As a strong advocate for philanthropy work, the company's charitable donations support many causes including foster care, education, and cancer care and research.
"When I started Golf Rider in 1997, I wanted a community-based company that would honor families right here in Peachtree City," says Frank Kadkhodaian. "My wife Patti has the most generous heart of anyone I know, and she has always encouraged our company to give back here in this community."
Reinvesting in the community is just one way to reflect the overwhelming generosity and support they've received from customers.
"I think you always need to support the community that supports you, and receiving starts with giving," Patti Kadkhodaian says. "I'm grateful for the business that has come our way. It's a requirement to be in business."
Golf Rider has contributed to dozens of local groups over the years, including the Real Life Center, the Business Women of Fayette and Coweta, and the Midwest Food Bank.
One organization that's near and dear to Patti's heart is Bloom, a foster care program based in Fayetteville that's licensed by the Georgia Department of Human Services and provides hope for kids that might not otherwise have it.
"I pushed for Bloom because it's for children, and that's right up my alley," Patti says. "This organization helps give children hope that they might have a wonderful life, even though their parents aren't able to give that to them."
The 2017 Bloom Ball raised a record $127,000, thanks in part to a donation by the Kadkhodaians of an $8,000 golf cart, which was raffled off. Previously, they have given two golf carts to the American Cancer Society and many others to Fayette County Schools.
Why Bloom this year? "It's a great cause. It's local. They are great people doing great work," Patti says of Bloom. "Frank has always been very generous, but to give a brand new golf cart was a big deal. It made me really happy for us to go all the way and make it the best that we could make it."
Becky Davenport, Bloom Executive Director, says that Golf Rider's generous Live Auction donation had a tremendous impact on the amount of funds raised to support Bloom's programs for foster children.
"Frank and Patti truly know the meaning of giving back to the community and ultimately their donation provided a path for abandoned, abused, and neglected foster children to obtain the services and resources they need to survive and thrive," Davenport says.
Patti Kadkhodaian is also co-founder, along with Wendy Maguire, of the Business Women of Fayette and Coweta (BWFC). Since incorporating in 2009, BWFC has become a strong and unified group of woman-owned and woman-led businesses. The organization has given to a variety of local nonprofits through fundraisers that have generated over $250,000 in donations.
"The whole purpose was to give back," Patti says. "I wanted it to be different than the usual networking organization. I wanted the ladies to learn something every time they got together."
What good is Golf Rider doing now? Through the holiday season, Golf Rider is sponsoring a drive called Wrap Fayette County with Love to benefit the Real Life Center, a local nonprofit that helps families in need connect with vital resources.
Donations of new and gently used blankets, towels and bed linens can be dropped off through Christmas at Golf Rider, 100 Huddleston Road, Peachtree City, Monday through Saturday between 8:30 am and 5 pm.
For more information about Golf Rider call 770-631-0014 or visit www.golfrider.com.