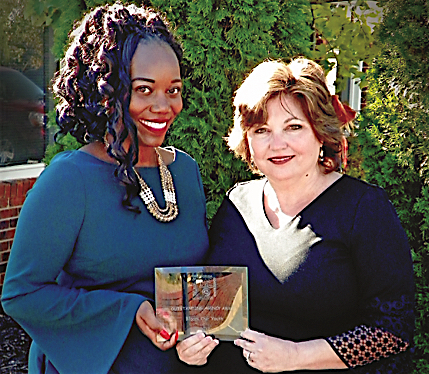 Fayetteville-based Bloom Our Youth, Inc., a nonprofit organization that provides refuge to foster children in Georgia, was awarded with Together Georgia's 2017 Most Outstanding Foster Care Agency in Georgia Oct. 26 at the Georgia Conference on Children and Families in Augusta.
---
Above, Pamella Talley-Coney, Bloom Foster Care Program Director (L), and Becky Davenport, Bloom executive director, hold the award. Photo/Submitted.
---
The award is given to a foster care agency that has demonstrated outstanding service to children.
"Bloom's foster care program is centered around the operation of The Bloom Closet, a children's boutique that supplies foster children with free clothing and necessities," said Becky Davenport, Bloom executive director. "Last year at The Bloom Closet, more than 2,000 foster children from 80 Georgia counties received free clothing, books, backpacks, school supplies, baby gear and toiletries."
Founded in 1989, the organization's main programs include a foster parent recruitment, training, and placement program, a monthly training program for foster parents, and a clothing resource center for foster children, called The Bloom Closet.
Bloom recruits, trains and certifies foster families to care for foster youth, including those with significant therapeutic issues, medically fragile needs, pregnant or parenting foster teen girls and sibling groups.
In the two years that Bloom has operated its licensed foster care program, it has recruited and certified foster families to care for nearly 100 foster children, all the while maintaining A+ ratings with the state of Georgia.
Bloom celebrates the work and commitment of its own foster parents by providing other unique supports such as the Welcome Home program, the Bloom University monthly training program, and a regular calendar of year-round foster parent networking and appreciation events.
"Being a foster parent with Bloom has been great —from the trainings to the regular house visits, to the Bloom Closet. We see the support and are thankful for everything Bloom has done to make fostering a wonderful experience," said Stephen Schultheis, a Bloom foster parent.
Bloom is currently seeking more foster families to support metro Atlanta's growing number of foster children who are committed to DFCS custody. Bloom provides individuals with all the necessary training, resources, and support needed to become a foster home. For more information, about becoming a Bloom foster parent, contact Shannon Hoy, Bloom Licensing Specialist, at 770-460-6652.