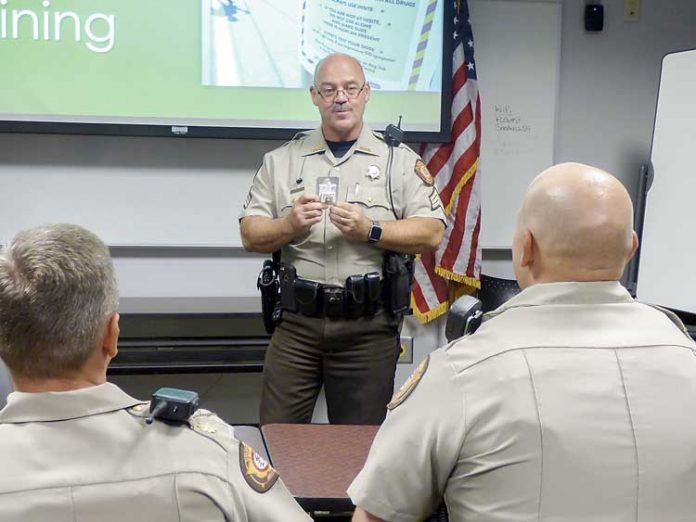 The Fayette County Sheriff's Office has joined a growing number of law enforcement agencies across the region and the state to train officers to administer Narcan during opioid overdose situations. The training came subsequent to the passage of the Georgia 911 Medical Amnesty Law.
---
Above, Fayette County Sheriff's Sgt. Doug Hardy demonstrates the use of Narcan spray during a Sept. 6 training session for deputies. Photo/Ben Nelms.
---
A bill signed into law earlier this year makes it possibile for law enforcement agencies across Georgia to provide the training for their personnel so those officers can recognize the signs of an opioid overdose and carry and administer the Narcan (Naloxone) Spray overdose kit.
The training received by Fayette deputies follows the same training by other local law enforcement agencies, such as Senoia and Peachtree City. Fayetteville officers will soon receive the training.
Providing the training for deputies last week was West Metro Regional Drug Enforcement Office paramedic Troy Smith.
The legislation, House Bill 965, known as the "Georgia 911 Medical Amnesty Law," allows first responders to maintain and administer opioid antagonists such as Narcan intranasally.
And equally as important, HB 965 also states that a person experiencing an overdose or anyone who in good faith seeks medical assistance for someone experiencing or believed to be experiencing an overdose will not be charged, arrested or prosecuted for a drug violation if the evidence for the arrest, charge or prosecution of the drug violation resulted solely from seeking medical assistance.
As for the training for those in law enforcement is obvious.
From a local perspective, Peachtree City Mayor Vanessa Fleisch at an Aug. 31 International Overdose Awareness Day said there have been 47 narcotic and opioid overdoses in the city in the past 18 months, adding that those numbers included five intentional and unintentional deaths.
Coweta resident and Grief Recovery After a Substance Passing (GRASP) representative Pat Rudd noted that in one recent year there were 10 overdose deaths in Coweta County and another 22 in 2015.
The opioid epidemic does not appear to be diminishing. Rather, the statistics coming from cities, states and national databases tend to indicate that the problem is getting worse.
Smith in the Fayette training noted that, in 2015, one in every 20 people over age 12 have used an opioid and that 40 percent of calls to poison control are opioid-related.
Citing other national data, Smith said 14 percent of overdose deaths were suicides and 78 percent were unintentional, whether from recreational or new users, elderly people taking excessive doses and children not realizing the risk involved.
A frightening reality today is that some opioids, whether in power or pill form, are being cut with Fentanyl, a Schedule II drug that is 50-100 times more potent than morphine and 30-50 times more potent than heroin, Smith noted.
Again, on a national level, data from 2015 provided by the federal Dept. of Health and Human Services shows the sobering reality of the scope of opioid use, overdoses and deaths.
According to HHS, in 2015:
• 12.5 million people misused prescription opioids
• 2.1 million people misused prescription opioids for the first time
• 2 million people had a prescription opioid use disorder
• 33,091 people died from an opioid overdose
• 15,281 deaths were attributed to overdosing on commonly prescribed opioids
• 828,000 people used heroin
• 9,580 deaths were attributed to overdosing on synthetic opioids
• 135,000 people used heroin for the first time
• 12,989 deaths were attributed to overdosing on heroin
Back here in Fayette and Coweta counties, the epidemic is real and it is affecting lives. In this epidemic, the often-touted local demographics along lines of variables such as income, are meaningless.