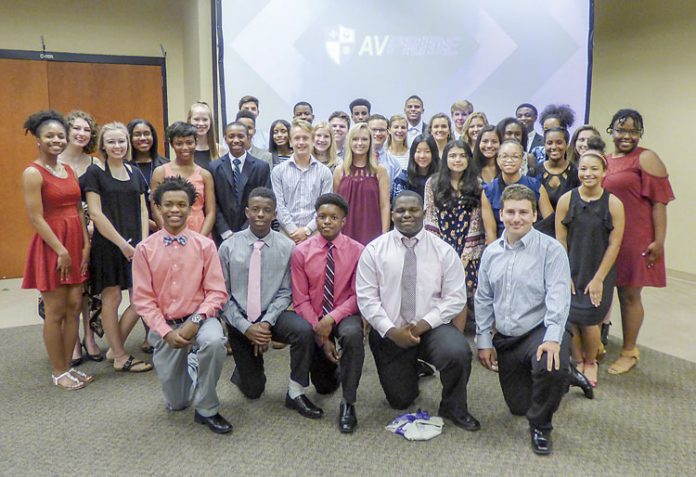 New Hope Baptist Church was the setting for a special occasion on Aug. 14 for AVPride and the 38 Fayette teens who were inducted into the Fayette Youth Leaders PRIDE (FLYP) program.
The event, attended by a wealth of business and community leaders and elected officials, was meant to showcase the FYLP students and provide them the opportunity to network with community leaders. Nearly 40-strong, the new FLYP group hails from all five Fayette County high schools.
---
Above, the 2017 Fayette Youth Leaders PRIDE (FLYP) inductees at the Aug. 14 induction ceremony. Photo/Ben Nelms.
---
"We want to shift the paradigm in terms of youth engagement. We wanted the kids to know what it means for all these folks to come here tonight," said AVPride co-founder Dawn Oparah at the outset of the meeting, noting the large attendance that filled the meeting room.
"We're here because we love you guys," said Fidelity Bank Vice President Brandon Sherman. "AVPride rocks, and rocks because of you. We want to be the catalyst for you."
The keynote speaker at the event was Pinewood Forrest President Rob Parker, who used a philosophical, yet realistic, approach to challenge the young people on how their lives might unfold and how that unfolding can bring significant benefit in their futures.
Parker challenged the kids to "know how you got here," "know who you are," "know where you're going" and, importantly, "know why."
AVPride youth participants, as part of the nonprofit's presence in the community, are quick to engage in a variety of efforts throughout Fayette County. Along with attending various conferences and their volunteer efforts, some serve in internships while others serve on panels during the development of community projects. Such was the case last year when Chase Johnson and Clara Comiskey not only helped work on the Fayetteville 20-year Comprehensive Plan, but made the presentation for their group before a packed house in City Hall.