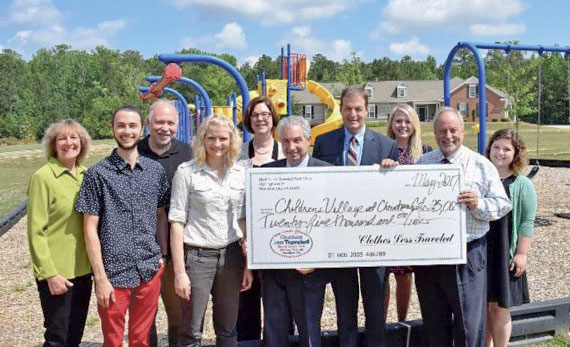 Clothes Less Traveled Thrift Shop in Peachtree City continues to serve the community by awarding a generous grant of $25,000 to Christian City Children's Village, a safe place for children who have been abused or abandoned. Kevin Barbee, Executive Director of Clothes Less Traveled, presented the check to leaders and staff of Christian City Children's Village.
"We have so many people to thank," said LaVann Landrum, Chief Development Officer of Christian City. "The dedicated volunteers, staff and board members of Clothes Less Traveled along with those in the community who donated and purchased items at the thrift store made this generous donation possible. On behalf of all the children who receive hope and healing at Christian City Children's Village, I am deeply grateful," Landrum said.
About Clothes Less Traveled
Clothes Less Traveled serves the needs of the community by operating a thrift shop where gently-used household goods and clothing are sold at fair and reasonable prices. The thrift store also provides an opportunity for volunteers to perform community service in a positive and productive way. Profits are distributed as scholarships, vouchers and grants to qualified recipients and 501c3 organizations. The store is located in Peachtree City. For more information, visit www.clotheslesstraveled.org or call 770-486-8517.
About Christian City Children's Village
Christian City was established 52 years ago when the first cottage for abused and abandoned children opened on Valentine's Day, 1965. Today, there are more than 1,000 residents, both children and senior adults, living hope-filled lives in the 500-acre community located nine miles south of the Atlanta airport.
Christian City Children's Village provides a loving and secure environment in family-structured homes.
Children ages 5-18 live with full-time house parents, where they work to heal their wounded spirits and break the cycle of abuse they have endured.
A warm home, healthy meals, clean clothing, quality education, necessary counseling, and a lot of loving care are provided to the children who are victims of neglect, abuse and abandonment.
Some children live at Christian City Children's Village briefly, while others spend their entire childhoods there.
The program is sustained through generous community support from individuals, churches, civic groups, businesses and grantors.
For more information, visit www.christiancity.org or call 770-964-3301.