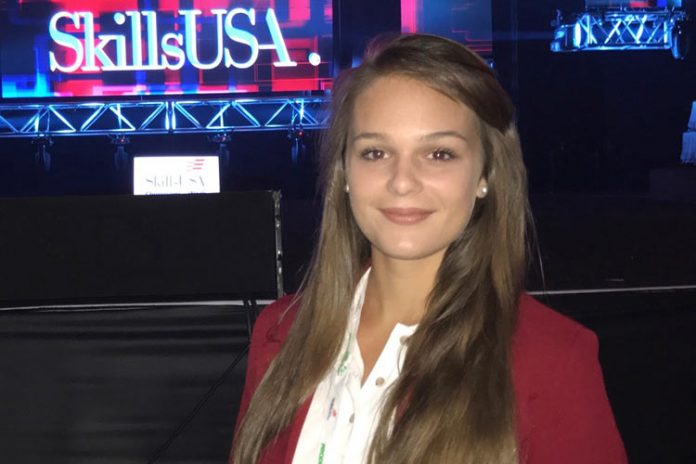 Kate-Lynn Loper traveled to Louisville, Kentucky in June to represent Coweta County and the state of Georgia in the 2017 SkillsUSA National Championship.
Loper, a 2017 graduate of Northgate High School, competed in the field of Early Childhood Education, where she placed 14th in the nation.
Loper became involved with SkillsUSA while enrolled in the Teacher Pipeline classes at the Central Educational Center. Teacher Pipeline classes are designed to introduce high school students to careers in the education field as well as provide them with meaningful internship experiences.
"Kate-Lynn is the perfect example of our ongoing successful partnership with local businesses, colleges, and the Coweta County School System," said Gayle Butler, director of the Teacher Pipeline, "She is naturally talented and has a deep passion for helping children." Through Teacher Pipeline, Loper became a Teaching as a Profession Pathway completer, affording her the opportunity to gain experience as well as earn college credit before graduating from high school.
Contestants in the SkillsUSA National Championship are asked to demonstrate their knowledge of developmentally appropriate practices and their ability to prepare and implement learning activities for children ages 3 to 5 years old.
Loper said she was excited about finishing in the allotted timeline, but was most impressed "that I transitioned beautifully," a skill that she had been practicing. On the judges' feedback card for the demonstration portion, they remarked that it "was very clear that (she) likes working with kids."
While in the Teacher Pipeline program, a majority of Loper's experience was acquired while employed at Coke's Chapel Childcare Center, where she works alongside experienced professionals and mentors who demonstrate effective teaching strategies.
"We are very proud of the accomplishments that Ms. Kate has made," said Bridget Adamson, director of Coke's Chapel Childcare Center. "We love her here! She has grown and excelled in the Early Childhood Education field and we are excited for her future in teaching,"
SkillsUSA was created to promote a skilled workforce by providing educational programs, events, and competitions that support career and technical education in the nation's classrooms.
The SkillsUSA Championships in Louisville, Kentucky have involved more than 6,000 outstanding career and technical education students, all of whom are SkillsUSA state contest winners like Loper. This year, students competed in 100 different trade, technical and leadership fields, in occupations such as electronics, computer-aided drafting, precision machining, medical assisting, early childhood education and culinary arts. Contests are run with the help of industry, trade associations and labor organizations, and test competencies are set by industry.