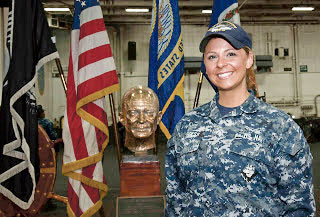 Newnan native and Airman Heather Burgess is serving on the aircraft carrier U.S.S. Dwight D. Eisenhower, one of the world's largest warships.
"Serving in the Navy reminds me of past service members and their sacrifice," said Burgess. "I know that my friends and family back home appreciate my service."
Burgess works as an aviation boatswain's mate aboard the Norfolk-based ship, a Nimitz-class nuclear-powered aircraft carrier and one of only 10 operational aircraft carriers in the Navy today. Aviation boatswain's mate play a major part in launching and recovering naval aircraft quickly and safely from land or ships. This includes preparing and fueling planes prior to takeoff and after landing, according Navy Mass Communication Specialist 3rd Class Theodore Quintana.
"I take care of everyone's quals, training and administrative paperwork," said Burgess. "I love seeing people succeed. The captain cares about us and we all appreciate his liberty policy."
Quintana said sailors' jobs are highly varied aboard the Eisenhower.
"Approximately 3,200 men and women make up the ship's company, and they keep all parts of the aircraft carrier running smoothly," Quintana said. "They do everything from washing dishes and preparing meals to handling weaponry and maintaining the nuclear reactors. Another 2,000 sailors comprise the air wing, the people who fly and maintain the aircraft aboard the ship."
The Eisenhower, like each of the Navy's aircraft carriers, is designed for a 50-year service life. When the air wing is embarked, the ship carries more than 70 attack fighter jets, helicopters and other aircraft, all of which take off from and land aboard the carrier at sea, said Quintana.
"Powerful catapults slingshot the aircraft off the bow of the ship, and those planes land upon their return to the aircraft carrier by snagging a steel cable with an arresting hook that protrudes from the rear of the aircraft. All of this makes Eisenhower a self-contained mobile airport and strike platform, often the first response to a global crisis because of an aircraft carrier's ability to operate freely in international waters anywhere on the world's oceans," Quintana explained.
Quintana said the Eisenhower was commissioned in 1977 and named after former president and Army Gen. Dwight D. Eisenhower, who distinguished himself through service and leadership during World War II. As the supreme commander of Allied Forces in Western Europe during World War II, Eisenhower led the massive invasion of Nazi-occupied Europe on D-Day, June 6, 1944.
"Every sailor aboard the U.S.S., Dwight D. Eisenhower plays an integral part in our success, from the engineering and reactor spaces to the galley and flight deck, and everywhere in between, and I couldn't be more proud," said Capt. Paul Spedero, Jr., commanding officer of the Ike. "Our many successes are built on their sacrifices and the strength they provide each and every day."
As a member of one of the U.S. Navy's most relied upon assets, Burgess and other Eisenhower sailors know they are part of a legacy that will last beyond their lifetimes, Quintana noted.