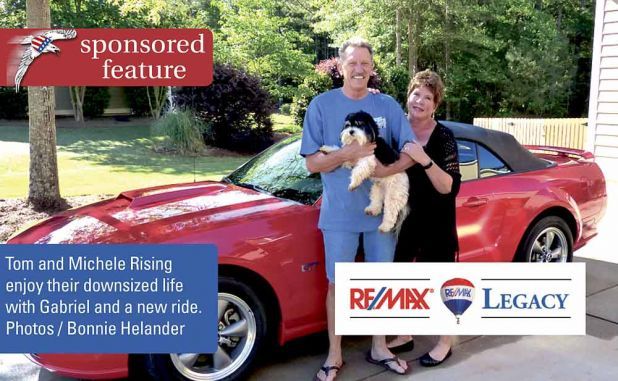 Sponsored Feature
When life changes, so does a person's housing needs. Realtor Michele Rising of RE/MAX Legacy understands those changes and she specializes in working with people whose lives are shifting, whether due to relocation, downsizing, or buying a first home. Since she and her husband just downsized, she knows from personal experience how important it is to ask the right questions and manage stress when making a major change.
"We recently sold our 4,000-square-foot home on two acres and moved to a 2,200-square-foot-home with a bit less property," she says. "I can tell you that downsizing is not for the faint of heart. There's a lot to think about. But it can be done and you can find a home you love, that meets your needs, and is still manageable. You can still have a yard, still have your privacy. It's just a matter of figuring out what you want and need."
For folks looking to downsize, Michele Rising recommends considering several factors. These include proximity to family and friends who'll be helping in times of need, distance to hospitals and other healthcare providers, and what type of layout works well for the individual or family. She also stresses that most people will need to pare down their possessions and recommends people ask themselves what they really truly love and what they can part with. In addition, she says folks should think about how they want to spend their time in the smaller home. People pursuing a new hobby might need space for a workshop or sewing room, whereas gardeners might want to make sure they have the right kind of land to pursue their passion.
"Your home should fit who you are and where you are in life," Michele says. "I've been in real estate for almost 30 years and I've always felt it was very important to work with my clients to find that best fit. I believe very strongly in continuing professional education and I keep up with the market, but I also focus intently on personal service. I deal with all my clients one-on-one and I'm very accessible because questions can arise at any time. If you're selling your home, we can talk about what improvements you might want to make – and when you should make them – so you see the most value from your property."
Michele says some of her favorite clients are senior citizens and first-time homebuyers, because it's so exciting to help people move into the next stage of their lives. She also works with lots of people who are relocating to Fayette and Coweta, some from other states and some from different parts of Georgia.
"Looking for and purchasing a new home can be fun and exciting as well as stressful," says Michele's client Don Wall, who just moved to Senoia. "My wife and I felt fortunate to have met and worked with Michele. Being new to the area, we really leaned on her experience and knowledge of the local market throughout the process, from our search all the way through closing. We couldn't have been more pleased with everything she did for us and highly recommend Michele to other home buyers."
For Michele Rising, this kind of testimonial is the best part of her job. She likes to quote the variously attributed sentiment that people "don't care what you know until they know you care." And Michele absolutely cares.
"I love real estate with every fiber of my being," she says. "I work hard for my clients and I enjoy every minute of it. I simply love helping people get where they want to be."
Sponsored by Michele Rising  •  Direct: 404-323-6473  Office:  770-487-4266  •  www.micheler.remax-georgia.com