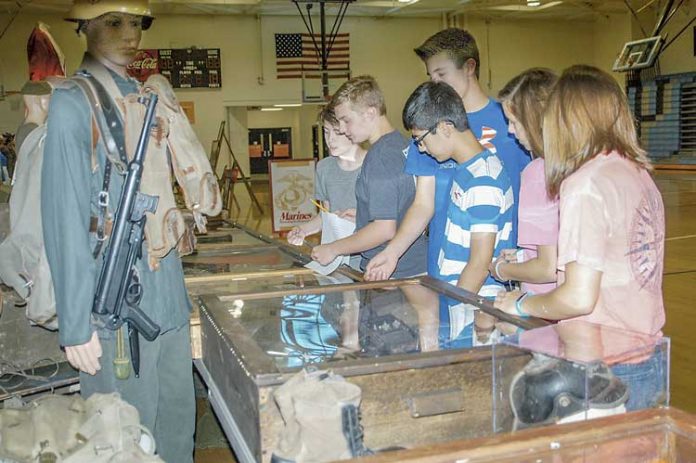 A one-of-a-kind traveling military museum made a weeklong stop at Rising Starr Middle to give students a better understanding and appreciation of the sacrifices men and women have made to protect and ensure their freedom.
The Military Collectibles Museum, with items collected by Vietnam veteran Lamar Scott, was on display at the school May 1-5. The focal point of the museum was 50 full-size mannequins displaying several eras of authentic military uniforms.
In addition, the museum featured hundreds of artifacts used by service men and women including weapons and military supplies from the American Civil War, American Revolutionary War, World War I, World War II, and Korean and Vietnam wars.
Scott began putting the museum together about 10 years ago with the purpose of taking it to schools to give the next generation of Americans a better understanding of the military and military service.
Scott says the most interesting artifact he has in the museum is a pillowcase that was framed and given to him as a gift for the heroic actions his battalion showed in helping to save a Vietnamese village during the war.
Eighth grade social studies teacher James Stevens arranged for Scott, and his colleague Buddy Simpson, to bring the museum to the school. The display was set up in the gym, and Scott and Simpson were on hand to answer questions and guide the students through the collection.
"The goal of both Mr. Scott and Mr. Simpson is to have students gain a renewed sense of appreciation for the great sacrifices many have made to make this nation so great," says Stevens.
In addition to the museum, a Rising Starr Middle parent, Darryl Irvin, a retired Master Chief in the United States Seabees, showed off items he had collected from his years in the military. His collection included more recent items such as memorabilia from Desert Shield/Desert Storm and Afghanistan.