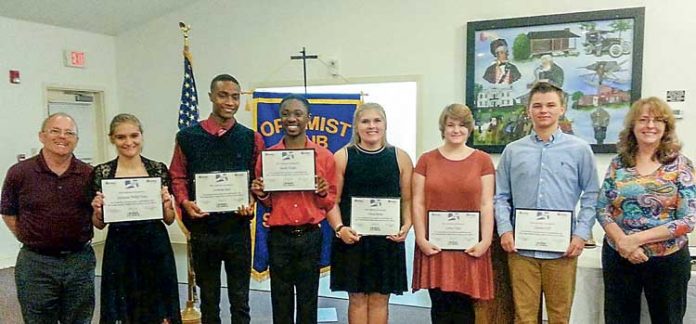 Michael Lauden has overcome countless challenges in his life. As the speaker at the Senoia Optimist Club's Youth Appreciation Banquet, he related many of life's obstacles that could not keep him down. After overcoming childhood abuse and suffering the sudden and tragic loss of his brother, Lauden worked hard to become an outstanding high school golfer.
After becoming one of the top ranked high school golfers in the state of Florida and earning a full scholarship to play golf at Auburn University, he experienced a severe injury that prevented him from playing golf and led to the loss of his scholarship. Still, he was determined to succeed in life.
Lauden eventually started two successful flooring business ventures only to lose the companies because of actions taken by someone close to him in the business.
 In the mid-1990s, he and his business partner built a very successful IT and consulting company. He was very active in the business and traveled to various points around the world helping to build and sustain the operations.
 His hectic schedule and work ethic finally seemed to get the best of him. From 2003 to present, Michael has undergone three open heart surgeries, 45 additional cardiac procedures, two heart attacks, six mini-strokes, and he has 32 cardiac stents. He has been resuscitated from death three times and has spent over 400 days of his life in the hospital.
Most recently, he was diagnosed with a rare and incurable blood cancer. After prayer and perseverance, . Lauden is now cancer free.
 The speaker explained the concept of adversity – or things that are against you – can be defined as "an unfavorable fortune or fate." He asked the audience of students, family members, and Optimists "what will it take to cause you to throw in the towel and quit?" He also reminded everyone that "If you do quit, your dreams will never be realized."
 After overcoming a lifetime of challenges, Lauden has focused on loving and serving others with a determination that never quits. The two keys of his life are a strong faith, and an understanding that perseverance builds character, character builds hope, and hope never disappoints.
 At the Senoia Optimist Club's Youth Appreciation Banquet, coordinated by Optimist Laura Bell, Lauden was an obvious source of encouragement and inspiration to everyone in attendance, especially the students who were honored from Northgate High School and East Coweta High School.
 Counselors at the two high schools were asked to nominate students who, like Lauden, have overcome challenges in their lives and persevered to succeed and become a positive example to others.
 Students recognized from Northgate High School were Sydney Fuller, Katelyn Pilon, Andrew Hill, and Olivia Privett. Those recognized from East Coweta High School were Cordarius Reid, Suji Han, Malik Wright, and Adrianna "Nikki" Jones.
 Each student received a citation from the Senoia Optimist Club. They and their family members also enjoyed a delicious dinner provided by the Optimists at the Senior Citizens' Center in Senoia.
 Program chair Laura Bell expressed her appreciation to everyone involved, and especially to the students for overcoming challenges and striving for success.
 If you would like to learn more about the Senoia Optimist Club, please visit its Facebook page ("Senoia Optimist Club"). You can also email the club at senoiaoptimistclub@gmail.com or contact Club President Phil Downey at 770-833-9242. 
 Optimist International is a worldwide volunteer organization made up of more than 2,500 local Clubs whose members work each day to make the future brighter by bringing out the best in children, in their communities, and in themselves. Optimists conduct 65,000 community service projects each year, spending $78 million in their communities. Annually, six million kids are positively affected by Optimist programs.
 To learn more about Optimist International, please call (800) 500-8130 or visit the organization's website at www.optimist.org.