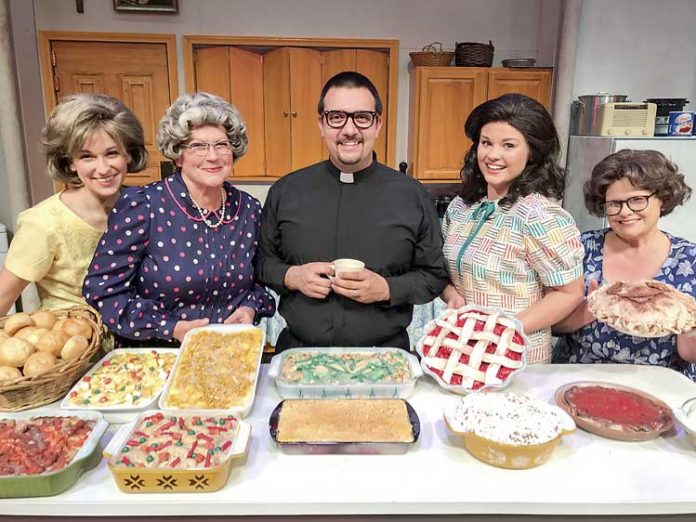 "Church Basement Ladies' is the hilarious musical taking the country by storm. One of the most popular shows in the country, this tuneful treat opens at the LegacyFriday and runs through May 7.
"Church Basement Ladies" is a hilarious new musical celebrating the church basement kitchen and the women who work there. Lutheran ladies from rural Minnesota handle a record breaking Christmas dinner, the funeral of a dear friend, a Hawaiian Easter fundraiser, and a steaming hot July wedding. They stave off potential disasters, share and debate recipes, instruct the young, and keep the pastor on due course while thoroughly enjoying, (and tolerating) each other. Funny and down to earth, audiences will recognize these ladies as they begin to see the church year unfold from below the House of God. 
"We've been wanting to produce this show for awhile" says Mark Smith, Legacy's artistic director. "This show has been selling out around the country, and it's wholesome humor is perfect for our audiences. We've hired an amazing group of performers, some of which have performed this show throughout the United States."
A familiar face at Legacy, Paul Glodfelter is directing this production. He has appeared on the Legacy stage as an actor in "Moonlight & Magnolias,," "Footloose," "Mary Poppins" and "Into the Woods."
"Although these ladies are fictional, their stories are very real," says Glodfelter. "It is based on real women and men who shared what it is like to grow up Lutheran in the 1950s. We've all known these amazing women and this show is truly a tribute to them." The show stars a talented cast from around the country including Katie Patterson, Jeremy Skidmore, Amanda Lyn Hornberger, Autumn O'Ryan and Nikki Savitt.
The Legacy's exciting eleventh season continues after "Church Basement Ladies" with Disney's classic fairytale, "Beauty & the Beast," running July-August of 2017. Following "Beauty & the Beast," Legacy will open it's twelfth season in September of 2018 with a brand-new line up of hits.
"Church Basement Ladies" runs April 14 through May 7 with performances Fridays & Saturdays at 8 p..m and Saturdays & Sundays at 3 p.m.. Adult tickets are $30-$40, Senior and student discounts are available as well as discounts for groups of 20 or more. Tickets and subscriptions can be purchased online at www.thelegacytheatre.org or by calling the Box Office at 404-895-1473. The Legacy Theatre is located at 1175 Senoia Rd. in Tyrone.