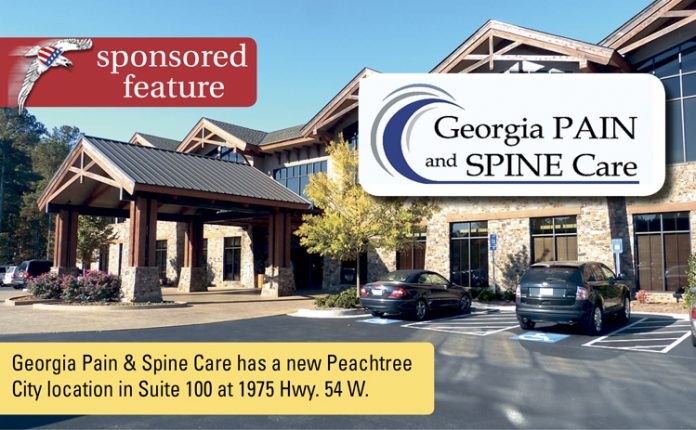 Sponsored Feature
Georgia Pain and Spine Care is a comprehensive pain management practice that does just that by offering diagnostic and therapeutic treatments for chronic, acute, and cancer pain. Founded by Dr. Charles Brownlow in 2008, the practice focuses on minimally-invasive procedures, education, and cost-effective preventative care via a multidisciplinary approach. Their primary concern is finding and treating the source of pain, rather than simply reducing symptoms.
According to the American Academy of Pain Medicine, roughly 100 million Americans suffer from chronic pain. That's nearly four times the estimated number of people suffering from diabetes, more than six times the number of people with coronary heart disease and cancer, and almost fifteen times the number of people who experience a stroke. The numbers may seem surprising at first, but consider that many of those conditions come with chronic pain, and that it can also be caused by a variety of other issues from arthritis to spinal injury to accident and more. In fact, chronic pain is one of the most prevalent conditions of our time. The good news is that it's often highly treatable – and that doing so is often less invasive and difficult than people think.
"Our goal is to help decrease suffering and improve the quality of life of our patients," says Dr. Brownlow. "We do this with a thorough evaluation and closely monitored treatments. Our treatments include interventional treatments including epidural steroid injections, radio frequency ablation procedures, spinal cord stimulation, nerve blocks, and a variety of other injections or minor surgeries. We do medication management in a controlled, closely-monitored fashion and we help our patients make lifestyle changes such as losing weight, exercising more regularly, and minimizing stress, which all potentially aggregate pain and suffering."
Dr. Brownlow brings more than 20 years of pain management experience from both hospital and private practice settings, including two years as the clinical director of pain management for Northside Hospital. The practice also includes four other physicians, all with different, complementary specialties, who treat patients at the practice's three locations. The staff includes Dr. Sandeep Vaid, who is both a neurologist and a pain specialist.
"Something that sets us apart as a practice is our multidisciplinary approach," says Dr. Vaid. "We have neurology, neuroradiology, and anesthesiology all in one place, and we're all certified in interventional pain medicine as well. This means that we can pool our knowledge and provide many different approaches to helping our patients. For me, it's very gratifying to merge my specialties to provide a very specialized view of pain and treatment."
Dr. Brownlow points out that Georgia Pain and Spine Care offers a very broad range of services and locations, and that they are often involved in clinical trials.
"We have offices in Newnan, LaGrange, and Peachtree City, and we have an accredited surgery center associated with the Newnan office," he says. "Within the office, we offer durable medical equipment, and pharmacy services at a certified toxicology lab. There is also an established medical research service that can offer state-of-the-art treatments to our patients. We'll be adding behavioral health options in the near future."
For all of Georgia Pain and Spine Care's physicians, working with the individual patient is key.
"The way I see it, the patient is the captain of the ship," says Dr. Vaid. "You tell me what's happening and we'll work together as a team to figure out the best approach. We treat patients like they're members of our families and each is an individual with different experiences and needs. The overall goal, however, is the same: reduced pain and better quality of life for every single patient." instructors to find one that fits your style. Also, scheduling at least one private session before the first class is recommended to get the lingo and motions down.
"It is our honor and pleasure to serve our patients and our communities."

Dr. Charles Brownlow