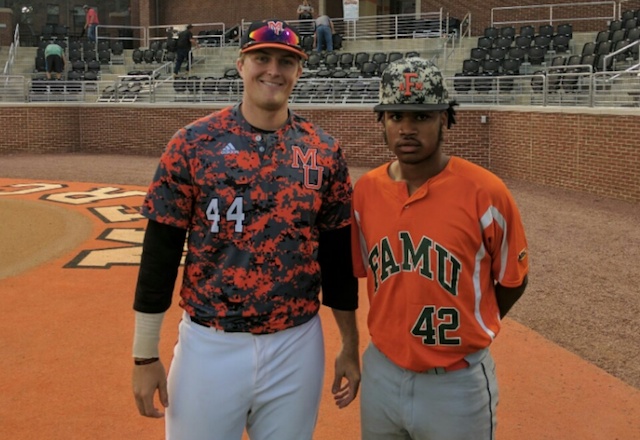 Two former Fayette baseball standouts faced each other recently at the college level.
Mercer, with former Whitewater High School first baseman Hunter Bening, swept a two-game series in Macon against FAMU, whose roster includes former Sandy Creek pitcher Rodney Randers, Jr.
"It is a great series win for the Mercer University baseball program, especially since they swept us a few weeks ago in a two game series in Tallahassee," said Bening. "It will also serve as a springboard as we prepare to go into conference play."
Bening, a senior, has made tremendous contributions to the Bears offense with a .306 batting average, .638 slugging percentage and six home runs.
Randers, a FAMU freshman, has been a contributor on the mound for the Rattlers as he has yet to give up an earned run in college baseball. His start against Mercer was his first college start and Randers left the Mercer game with a 5-2 lead, but the Bears ended up coming back to win.
"Of course, I wanted us to win both games. However, Mercer University is a nationally ranked program and I am glad that we were able to split with them," said Randers. "My goal this season is to continue to get better and better each game that I pitch. I am definitely feeling more and more comfortable each time I go to the mound. It is always great to play against a former Fayette County rival like Hunter and Whitewater."
The win moved Mercer to 19-4 overall heading into Southern Conference play, while the loss dropped FAMU to 14-7 overall and 5-1 in the Mid-Atlantic Athletic Conference. The Rattlers currently lead the MEAC by one game.
– Russell Cooks