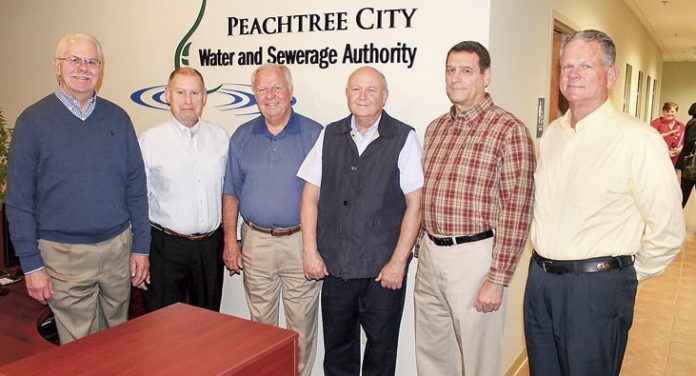 The Peachtree City Water and Sewerage Authority (WASA) Board of Directors welcomed two new board members and elected its new slate of officers during its January Meeting.
The Peachtree City Council appointed John Oakey as a voting member and Bob Grove as alternate to fill the two open seats for 2017 on the six-person PCWASA Board. Both men are U.S. military veterans with extensive business experience and each have been residents of Peachtree City for more than 30 years.
Oakey retired as a Captain in the U.S. Army, prior to embarking on a career in major business development and sales, in addition to inventory control, contract negotiation and administration, as well as data management and technology. Since his retirement, Oakey has worked temporary duty as branch manager and corporate sales manager for Southeast Link, in addition to serving as a strategic development consultant for Integrity Synergistics. He continues to work as a consultant, primarily assisting clients with data management issues.
Bob Grove served six years of active duty as an aircraft commander in the United States Air Force, and another 24 years as a squadron and wing commander in the Air Force Reserve. During that time, he also worked for Delta Air Lines in Atlanta and Miami, before retiring in 1994. He continues his love of flying with the Commemorative Air Force Dixie Wing.
With a full collection of members at its January Meeting, the WASA board of directors elected its 2017 slate of officers. Bill Holland and Phil Mahler will continue in their roles as chairman and vice chairman, respectively, while Frank Ward will step into the role of secretary-treasurer.
Holland, who begins his fourth year as PCWASA Chairman, is retired with over 40 years of professional experience in architectural design and engineering, including 33 years spent working in the City of Los Angeles Department of Public Works, where he retired as city architect. The balance of his work experience was spent consulting in the private sector. Upon his retirement from the city of Los Angeles, he moved to Peachtree City in 2004.
Mahler is a retired federal agent who performed and supervised audits of businesses for the U.S. Internal Revenue Service. He has been a resident of Peachtree City since 2006. He is the longest tenured member of the WASA board of directors, beginning his service in 2008.
Ward joined the WASA board last year, serving a short stint as alternate, prior to filling an unexpired term as a voting member. Like most of his fellow board members, he has extensive work experience in both the public and private sector. After graduating from the U.S. Military Academy in West Point, he served 16 years in the U.S. Army Corps of Engineers. He then moved on to the private sector, where he currently serves as the federal programs manager for McDonough Bolyard Peck, Inc. (MBP) in Atlanta. He has worked there previously as the company's senior construction manager and branch operations manager.
John Dufresne, Jr. is the final returning member of the WASA Board of Directors. Dufresne is retired from the U.S. Army, where he served for 20 years, not counting the three years he served as an executive officer at Fort Benning and the two years he spent as a project officer in Afghanistan. He currently is the president of Shred Box, Inc. in Peachtree City.
The WASA board of directors meets the first Monday of each month at 6:30 p.m. at the authority's headquarters located at 1127 Highway 74 South. The meetings are open to the public.