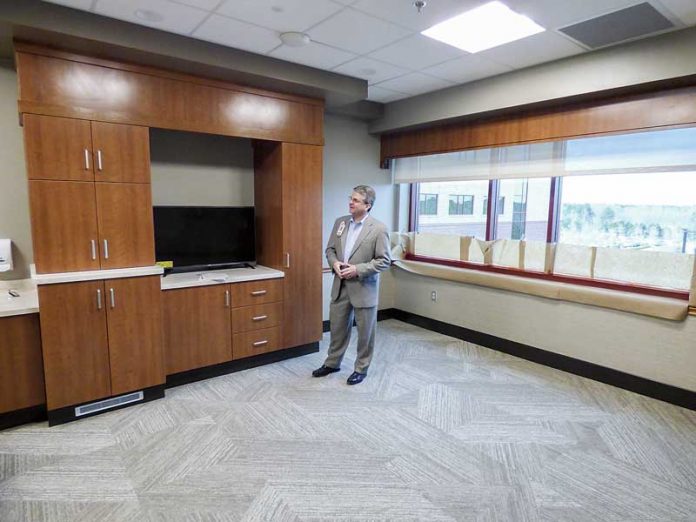 Will feature 4 overnight guest suites next to patient rooms; ER to add 27 exam rooms for total of 57
Nothing stays the same for long at the Piedmont Fayette Hospital expansion in Fayetteville. The hospital today is close to opening its newest addition, featuring an expanded Emergency Department and more all-private patient rooms. New to the south metro Atlanta area will be the "Suites at Fayette."
Work on the third major expansion of Piedmont Fayette Hospital is nearly complete. CEO Michael Burnett recently showed off the new addition while commenting on what the expansion means and what it means to serve the community.
The expansion is visible on the hospital's east side, a five-story addition that is about to add an expanded Emergency Department and more private rooms for patients. In all, said Burnett, the expansion represents a $61 million project privately funded through the nonprofit Piedmont parent.
The second floor of patient rooms is expected to open in mid-February. Floors 3, 4 and 5 are expected to open roughly every two weeks after that so that, by mid-April all four patient floors will be operational.
It is on the third floor that something new to south metro Atlanta can be found. Opening shortly after the official opening of the other patient rooms will be the "Suites at Fayette." Essentially a guest suite attached to a patient room, the suites are large and can accommodate family members who want to stay close by. The suites come with sitting and sleeping accommodations, a refrigerator and microwave and private bathroom. While all the suites are quite large, one of the four suites is even more spacious.
Burnett said pricing for the suites has yet to be determined.
The expanded Emergency Department is anticipated to open fully in early March, adding 27 examination rooms, three new trauma rooms, a decontamination area with two isolation rooms, new behavioral health rooms and 12 observation beds. Once completed, the emergency department will include a total of 57 examination rooms.
"The most rewarding thing for me is to be able to work with an organization like Piedmont that continues to invest in our community," said Burnett. "This is our third major expansion. We're blessed with the opportunity for growth and to continue to meet the needs of the community. It's not only the size of the hospital, it's also the services we offer."
Citing an example, Burnett said it was last year that Piedmont Fayette celebrated its 10th year of delivering babies.
"Now it's 20,000 babies later," Burnett said with a smile, also noting other services added in recent years included those such as the cancer center.
A milk donor program in the neonatal unit has been in place for two years, Burnett noted.
"Mom's milk is important for preemies, but they can't always provide it," said unit Clinical Director Donna Yarbrough. "So we partnered with a milk bank that's part of Piedmont."
Burnett last week also provided a look into the future. "Looking forward, some of the things we're trying to do with our expansion is to not only meet the needs of the community and to have the right size ER for the volume that we see, but to have all private rooms for our patients. Then to continuously bring on additional services. We continue to look into specialties that we need to grow into," he said.
One of the next areas the hospital will explore is lung cancer. "There are still too many diagnoses of Stage 4 lung cancer in our community. So we're pushing to start not only with our lung screening and looking with our new pulmonologist to diagnose and treat earlier," Burnett said.
Parking at the hospital is a topic Burnett often hears referenced. "We've added valet parking and additional lots with 76 spaces on the east side," Burnett said, noting the need for additional parking accommodations in the future. To date, those options are a matter of discussion only with no current timeline. "We're trying to handle what we can in the short-term while looking at the long-term."
Piedmont during the past year initiated a new purpose for the organization. Burnett said the new purpose statement is, "To make a positive difference in every life we touch."
"That's with our patients and their families and with our physicians and employees," Burnett said.
For those interested, Piedmont Fayette is always looking for volunteers. If interested, contact Kirsten Soriano at 770-719-5758.