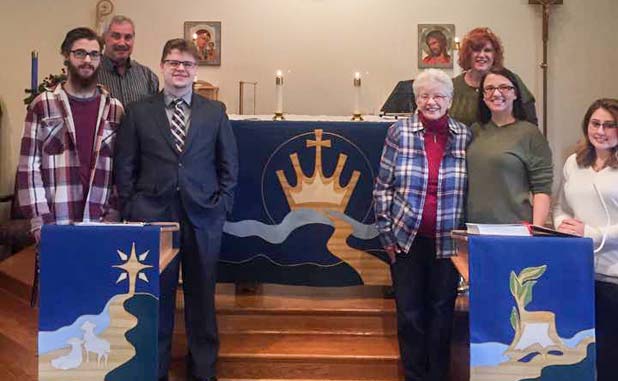 New paraments, or altar coverings/hangings, were dedicated at The Cathedral of Christ the King in Sharpsburg during the Advent season.
Soon after the church was first established in 1996, Tom and Karen Hennessy became charter members of the church. Following to a long illness, Tom Hennessy became the first member of the church to die.
In 1998 his wife, Karen, purchased paraments in his honor for the church. Since the church met in borrowed facilities for the first six years, all of the paraments saw extensive use and wear.
Now, almost 20 years after those paraments were purchased, the church bought new Advent paraments and placed them in the church in memory of Tom Hennessy and in honor of his family. Christ the King's Bishop David Epps dedicated the new cloths.
---
Members of the Hennessy family who were present for the dedication of the new paraments were (L-R): Noah Thompson, Senoia; Richard Thompson, Newnan; Joseph Thompson, Newnan; Karen Hennessy, Newnan: Lisa Sharpton, Newnan; Christi Thompson, Newnan, and Rainee Thompson, Newnan. Photo/Special.