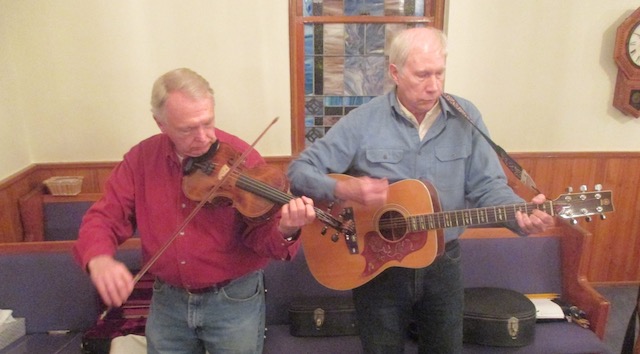 Listen for that bluegrass sound in Luthersville on Jan. 21.
Follow the twanging guitar, the rhythmic fiddle and the haunting sound of the harmonica. You will find yourself at the County Line Cafe where a fundraiser is scheduled for two local churches, Luthersville United Methodist Church and Allen-Lee Memorial United Methodist Church in nearby Lone Oak.
A spaghetti dinner and homemade desserts will be served, and there will be lots of toe-tapping music during the dinner which starts at 6 p.m. Admission will be a minimum donation of $10 per person.
"The type music will be bluegrass and bluegrass gospel," said Michael McFarlin, a skilled fiddler who also is pastor of both the churches. McFarlin will be playing along with Pete Adgate, Art Arace, Randy Atkins, Betty Fraas, Terry Mitchell and Wayne and Rena West.
Wayne West and Betty Fraas will play guitar, while Rena West will play bass. Adgate's instrument will be the mandolin. Arace will play the banjo, and Mitchell will play the harmonica. "He may play guitar, too," McFarlin said.
"Paul Parker, I think, is going to join us on a few tunes on the hammered dulcimer," McFarlin said. Parker and his wife, Bonnie, own and run the County Line Cafe, located on Oak Street in downtown Luthersville.
The musical group does not have a name, but some of the members have known each other's names for years. Adgate and McFarlin have been friends a long time, and McFarlin met the Wests about three years ago. "I met them through an event we played for the Emmaus Gathering," he recalled.
Rena West described the experience as "several friends playing together."
Luthersville United Methodist maintains several ministries in the community, most notably and outreach that provides food to needy families in the area. Allen-Lee's congregation is in the midst of a campaign to raise funds to make its 1939 building handicapped accessible.
"It'll be a lot of fun," Rena West said, "and we are excited to help with the benefit and spend time with friends while making new friends, too."
In the above photo, Michael McFarlin, left, practices with his brother-in-law, Cliff Gillette, to prepare for the Jan. 21 fundraiser at County Line Cafe in Luthersville.