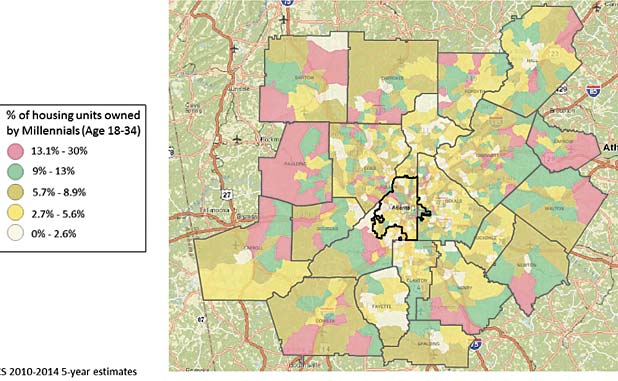 Above, a map of the Atlanta metro area showing the areas of home ownership by millennials by county indicates that Fayette County has the smallest percentage in the region. Below, red areas show top 20 percent of neighborhoods with the highest concentration of seniors. Graphics/Atlanta Regional Commission.
Recent census data compiled by the Atlanta Regional Commission (ARC) shows where Fayette and Coweta counties are positioned in terms of senior density, younger and older neighborhoods, millennial homeowners, people under age 18 without health insurance and poverty.
Those 65 and older are accounting for a larger percentage of the population. This is especially true in Fayette County compared to other counties in the metro Atlanta area. A census-based check by the ARC of where older adults are concentrated in the 20-county core metro Atlanta area tells an interesting tale.
The data looked at the top 20 percent of neighborhoods with the highest density of seniors. The data revealed that Fayette, along with Newton, Spalding, Walton and Hall counties had approximately half the neighborhoods in those counties with at least 20 percent seniors.
On the opposite side of the spectrum, Coweta, Henry, Gwinnett, Barrow and Clayton had a small number of neighborhoods with 20 percent seniors.
Another data set dealt with oldest and youngest neighborhoods in the 20-county area. The youngest neighborhoods came with a median age range of 16-31 years while the oldest neighborhoods ranged in median age from 40-53 years.
Nearly all of Fayette, excluding portions of central Fayette and the Tyrone area, is made up of older neighborhoods, based on census figures from 2010. Fayette also had a larger percentage of its land mass with older neighborhoods than the remaining 19 counties in the 20-county area.
Other counties with appreciable percentages of older neighborhoods include Coweta, Hall and Carroll counties. Coweta also had a younger neighborhood area, largely around Newnan.
Counties with the largest portion of younger neighborhoods included Fulton, DeKalb, Clayton, Gwinnett, Hall and Cobb counties.
Data showing the percentage of millennial (age 18-34) homeowners in metro Atlanta's 20 core counties indicated that only Fayette, Spalding and Rockdale did not have neighborhood area with 13 percent or more of millennials owning homes.
Areas of Peachtree City, Fayetteville and north central Fayette had 2.7-5.6 percent millennial home ownership while the percentage in Tyrone and south Fayette areas was 5.7-8.9 percent and a portion of north west Fayette registered millennial home ownership between 9-13 percent.
In Coweta, areas near Senoia, Newnan and northwest of Newnan have 9-13 percent millennial homeowners, while areas in east, southwest and east central Coweta have 13-30 percent millennial homeowners.
Another area surveyed by ARC, and averaging data from 2010-2014, dealt with the percentage if people under age 18 without health insurance. Perhaps surprisingly, areas of north central Fayette showed between 9.3-15.6 percent of children without health insurance.
Data showed that 5.6-9.3 percent of children in portions of south, northeast and west central Fayette had no health insurance.
In Coweta County, data showed 9.3-15.6 percent of children in portions of east Coweta with no health insurance, while portions of the south central and western areas of the county had a higher rate of 15.6-49.6 percent.
The ARC data also looked at poverty in the 10-county region and what has been a decline in those rates since 2012. While Fayette experienced the lowest poverty rate of the 10 counties, only Fayette and Cherokee have seen no decrease since 2012.
Fayette in 2008 had a poverty rate of only 3 percent, significantly lower than its other ARC neighbors. By 2012, the poverty rate was 8 percent and remained at that level in 2015.
Cherokee had a poverty rate of 10 percent in 2012 and 2015.
The highest poverty rate was found in Clayton, and showed a rate of 29 percent in 2012 and a 24 percent rate in 2015. The 10-county region had a poverty rate of 14 percent in 2015.
The ARC website, http:33n.atlantaregional.com, provided maps rather than number totals for the various categories.