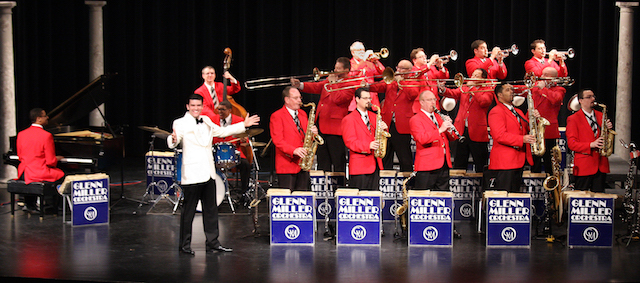 Spivey Hall welcomes the New Year (and the second half of its 26th season) with a diverse program that continues its tradition of bringing the best in classical and world music to Atlanta patrons.
"The timeless toe-tapping tunes of the world-famous Glenn Miller Orchestra are always a joyous way to start the New Year," said Sam Dixon, executive and artistic director of Spivey Hall. "Tammy McCann is a compelling jazz vocalist, and the spirit of Beethoven, Haydn and Mozart's music will be beautifully revealed by the critically-acclaimed London Haydn Quartet."
Now an annual tradition, The Glenn Miller Orchestra (Jan. 7) returns to Spivey Hall with the big band sound sure to bring the swing.
London Haydn Quartet (Jan. 8), appearing with period clarinetist Eric Hoeprich, takes Spivey patrons back to 18th century Austria to recreate Haydn's string works with an authentic period sound.
Charismatic jazz vocalist Tammy McCann (Jan. 21), whose vocal stylings were called "luscious" by the Chicago Tribune, will sing and swing the jazz standards with a remarkable range of color, texture, tone and nuance.
Prolific concert organist Stephen Tharp (Jan. 28) presents a spectacular program including his own transcription of Stravinsky's magnificent masterpiece Le Sacre du Printemps (The Rite of Spring).
Spivey Hall Education's Young Peoples Concerts presents three performances in January designed to supplement STEAM curriculum for students.
The Atlanta Opera Studio Tour, the education program of The Atlanta Opera, presents Cinderella (Jan. 20), an hour-long version of Rossini's popular opera adapted specifically for students K -12.
Artists group Atlanta Dance Collective's Tales Told Through Twists, Turns, and Technology (Jan. 25) is a creative and interactive program that uses music, movement, improvisation and video to convey phrases, create characters, and underscore genre.
In Latin America in the Caribbean, Atlanta's favorite steel drum band, Atlanta Steel Pan (Jan. 31) traces the musical influences that created the Caribbean sound.
For tickets or more information, call the Spivey Hall Box Office at 678-466-4200 or visit spiveyhall.org. In addition to the standard ticket pricing indicated for each performance, there is a 50 percent discount available to students and Georgia educators with ID. Discounted single tickets are available only through the box office, which is open 9 a.m.to 5 p.m. weekdays; series subscriptions are now available online for purchase.