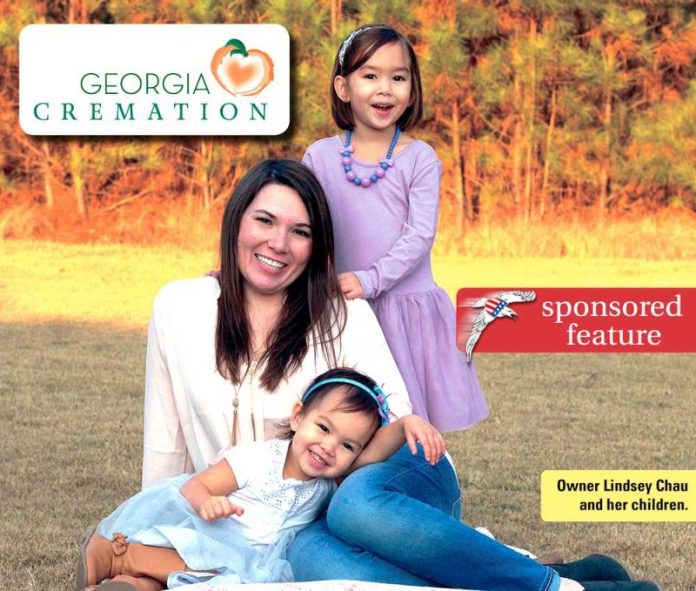 Sponsored Feature
Many people today seek simplicity, not only in life, but in their final services. Since 2010, around 40 percent of the population has chosen cremation each year, and that number is expected to continue to rise. Although the option has grown in appeal, finding experts to perform the services in a way that genuinely reflects the deceased's life can be difficult. But that's exactly what Georgia Cremation, which opened in Fayetteville last month, offers. Lindsey Chau is completely focused on providing professional, affordable cremation services – and on doing so in a truly personal atmosphere.
"Most funeral homes only offer cremation services as a sideline," explains Lindsey. "We understand cremation families and focus exclusively on cremation. Our goal will always be to offer options tailored to fit the growing number of cremation-minded clients and their unique needs."
This specialization also allows Georgia Cremation to better control costs. Their facility, which is much smaller than a typical funeral home, requires far less overhead to operate, so they can provide services at a more competitive price. They say the costs of their services are usually at least 40 percent less than the same services provided by a funeral home. Their packages are all-inclusive and begin at $1,250 for a simple cremation.
"A stress-free and remarkable customer experience is very important to us," says Lindsey.  "Our website was developed to help cremation customers make a worry-free decision about the costs associated with cremation. We have an urgency to really focus on the families who just want cremation".
Services can be personalized for each individual. Lindsey can often coordinate memorial services at the loved one's church or other place of significance, and can also help plan a celebration of life at on-site chapel at Georgia Cremation. Those who want a bit more ceremony can choose cremation following a traditional burial, and graveside services are also available. Urn options range from simple to ornate to earth-friendly.
While Georgia Cremation's services are affordable and flexible, they're also highly professional. Lindsey represents the third generation of her family to work with final services and she understands the importance of offering services and merchandise to a new generation. Georgia Cremation, founded in Duluth in 2013, celebrates, on their website, a growing list of client testimonials. This history, they feel, fuels both their expertise and their commitment.
"We believe in treating everyone like family," says Lindsey. "We're a local solution, we fully understand this business, and we can help families create truly unique memorable services. And we offer the same services traditional funeral homes offer. We place obituary and funeral notices and we work with insurance, social security, and out-of-town cemeteries. We also offer to visit with families in their homes because it so often reduces anxiety and stress when we go to them. Our goal is to be there for whatever our clients need."
Georgia Cremation is also an Honored Provider of Veteran's Funeral Care, America's first and largest effort to help Veterans and their families receive the important benefits they have earned, including help with VA benefits, arrangements with National Cemeteries, and military honors.
"It's a great privilege to work with families at what is often a very difficult, emotional time," Lindsey says. "We do remain friends with many of our clients and we want to be there for as long as our clients need us. If we can help make a tough time easier, if we can make the celebration of life more personal, if we can help people find peace – that's what we do."