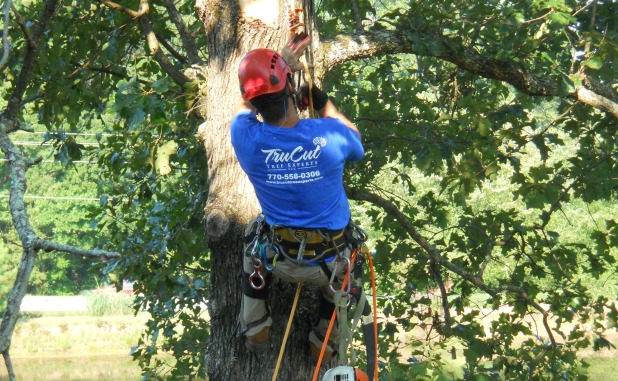 Sponsored Feature
If you haven't walked your yard to check for dead or damaged trees and hanging limbs recently, you could be missing a serious hazard – to your home and to your family. A mature tree can weigh 10 tons or more, more than enough to crush a motor vehicle, severely damage a home, or cause catastrophic personal injury, according to Drew Wall, co-founder of Tru Cut Tree Experts.
In fact, the Occupational Safety and Health Administration (OSHA) reports more than 100 annual fatalities and hundreds of non-fatal injuries, most from falling limbs.
Yet trees are valuable assets. They provide privacy and shade, can help reduce cooling bills, and add property value. Sturdy limbs support tree houses and tire swings. Blooming and turning leaves enliven springtime and fall. But like any other part of the home, trees require periodic maintenance.
"We all know that preventing a problem is safer and less expensive than fixing one," explains Wall. "Trees are no different. The best way to prevent a major problem is by conducting a regular visual inspection."
Tru Cut Tree Experts recommends that homeowners walk their property regularly, including after any major storm or strong wind. In addition to leaning trunks and broken or dead branches, homeowners should look for missing bark, cracked or raised ground near the roots of the tree, and mushrooms and other fungus around the base.
In Georgia, homeowners and professionals alike must pay special attention to pine trees, (see photo at right) partly because they are so numerous, but also because of pine beetles, which infest and kill pine trees. Common signs of pine beetles include bore holes in the trunk or limbs and sawdust around the base. In addition, pine trees have a minimal root system, which makes them especially prone to falling under stress of wind or other storm conditions.
So, what should you do if you have a problem tree or limb? In this case, DIY can be extremely risky. According to the Tree Care Industry Association (TCIA), when homeowners attempt to trim or remove trees themselves, they experience five times the number of injuries that professional tree experts encounter. In addition, if a homeowner attempts to remove a tree or limb himself and causes damage to a neighbor's fence, shed, pool, or home, the homeowner will be liable for the cost of repairs and insurance may or may not cover the expense.
"Tree work is inherently dangerous," Wall explains.  "It requires extensive training and experience to safely and properly trim or remove trees. A truly professional removal company will understand trees and know how to mitigate risks. That kind of expertise is a homeowner's best protection against injury to themselves and to their property."
Finding the right removal company is critical, because there's only one chance to take a tree or limb down correctly. In Georgia, tree service providers are minimally regulated, which allows for cheap, "no-frills" removal companies. Consumers should be aware, however, that such companies frequently work without liability or worker's compensation insurance. They may also lack the training and equipment to do the work safely and without damaging the homeowner's yard, surrounding landscape, or property. Once the homeowner repairs those damages, the price of hiring a low-cost removal service can end up being substantially more than the cost of hiring a professional company up front – and the hassle involved can be far more significant.
So how can a homeowner find a professional, reputable tree removal firm who will do the job right at a fair price? Wall recommends first visiting company websites to check services and testimonials, looking for customer reviews on the internet, and asking family and friends for recommendations. Then, he says, homeowners should ask the sales representative or company owner lots of questions.
"You want a company that can give you details about their process," explains Wall. "At Tru Cut, our core principles are safety, quality work, and customer service. We develop a removal plan for each project based on the job's conditions. The entire Tru Cut Tree Experts crew is outfitted with wireless headsets in their protective head gear because tree work can be noisy and we need to ensure that everyone can communicate clearly at all times. Our equipment and processes are turf-friendly, which means they are designed to protect your lawn and surrounding landscape. And we don't consider the job complete without a thorough clean-up of the work area. Any tree company you allow on your property should have these kinds of processes in place and be willing to take time to share them with you."
Further, homeowners should always insist on proof of current workman's compensation and general liability insurance and should verify coverage themselves.
"Base your purchasing decision on expected quality of work as well as a fair cost based on apples-to-apples comparisons," says Wall. "Unfortunately, almost anyone with a truck and a chain saw can call themselves tree experts. Please be diligent and careful when selecting a tree service provider. There is a difference and your most valuable assets – your home and property – are at stake."
Tips for Choosing a Tree Service Provider
Brought to you by Tru Cut Tree Experts, LLC, winner of the 2015 Best of HomeAdvisor Award
• Read Reviews. Visit prospective providers' websites for customer testimonials (and to check out company services in advance). No website? Think twice. Also search for customer reviews posted to Google, other review sites and services like HomeAdvisor.com. Pay special attention to the service aspects praised – and to problems raised. And remember that an absence of reviews doesn't necessarily indicate an absence of problems!
• Check Your Networks. Don't forget to ask family and friends for recommendations and warnings. Companies who have built great local reputations based on service and expertise will be your best bet. Strong reputations mean more customers and a company with a solid base of business has the cash flow to maintain equipment, keep insurance policies in effect, and hire experienced, well-trained personnel.
• Ask Questions. What are the company's safety protocols? Can workers communicate clearly, no matter how loud it gets? Do they use turf-friendly equipment and processes? Will they clean up after themselves? Will you be able to inspect the area before the completed work is approved? Be wary of any company that hesitates before answering or that isn't willing to take your questions seriously.
• Get Quotes. Once you've done your research, select the three providers with whom you're most comfortable and ask for quotes. Always be wary of an estimate that is significantly lower than the others. If it looks too good to be true, it probably is. And any company that won't put the quote in writing could be serious trouble.
• Verify Insurance. Don't just take the prospective service provider's word, check it out for yourself. Ask the vendor to provide proof of insurance – both Workman's Compensation and General Liability – along with the quote. Make sure the coverage is current and consider placing a call to your own insurance agent to verify that the tree company's liability limits are adequate.
About Tru Cut
Tru Cut Tree Experts, LLC, is a fully licensed and insured tree service provider. A recognized industry leader in Fayette County and surrounding areas. Tru Cut offers fairly-priced, high quality tree cutting, trimming, and removal work to keep houses safe and yards and commercial properties looking their best. Its core principals are safety, quality work, and customer service.
Tru Cut Tree Experts takes great care with landscapes and clean up. For instance, Tru Cut's Bobcat (below) is equipped with turf tires to minimize damage to lawns.