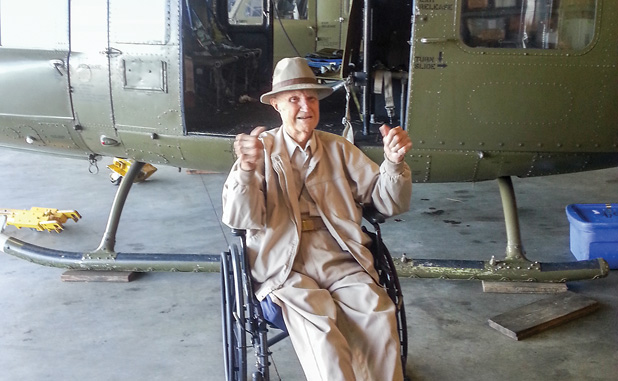 A special birthday will be celebrated next week in Peachtree City.
Lamar Wallace, known as the world's oldest living Eagle Scout, will be 105 years of age Nov. 28. He has been a resident at Somerby since earlier this year when, according to sales and marketing director Amanda Flanigan, he arrived one day and announced that he was putting his house up for sale and moving in.
He was born in Oklahoma, where his parents owned a general store and also raised cattle on a farm. After serving five years in the U.S. Army and attaining the rank of captain during World War II, he returned to his home state and earned his degree before joining a Tulsa newspaper, where he worked 20 years in the circulation department. He then was in the real estate business until his retirement in 1980. He was married to Mary Decker from 1977 until her death in 2010.
Wallace was invited to a special event the week of Veterans Day, visiting a local airport and touring a Vietnam-era Huey helicopter. He declined an invitation to take a ride but enjoying sitting in it while it idled and also standing close by while watching it take off and land, Flanigan said.
"He climbed out of it and said, 'I am so glad I experienced this; I am glad I came.' It made my heart melt," she said.
There are more fun activities planned for his birthday. He had two birthday wishes – to take one more ride in his old Cadillac and to eat a steak. The car will be placed in front of the entrance to Somerby's assisted living facility and a few other classic cars may be parked there for the day as well.
Officials are trying to organize a Dixie Wing flyover with the pilots tipping a wing to Wallace on the evening of his birthday. An Eagle Scout contingent will be on hand to conduct a short program.
A number of dignitaries from Peachtree City and Fayette County have recognized Wallace for his milestone. He is the oldest resident currently at Somerby, which has approximately 140 living on its campus.